A delegation of Abu Dhabi-based carrier Etihad Airways, which is expected to buy stake in Jet Airways, will meet Commerce and Industry Minister Anand Sharma this week.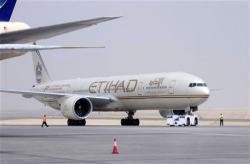 "They are meeting me on January 31," Sharma told reporters here on the sidelines of CII's annual Global Partnership Summit.
The proposed meeting comes in the backdrop of Jet Airways stating earlier this month that it was in talks with Eithad regarding a potential investment by it in the Naresh Goyal- owned carrier.
The issue is also understood to have come up during the bilateral meeting Sharma had with UAE Foreign Trade Minister Sheikha Lubna Bint Khalid Al Qasimi.
Jet is likely to sell 24 per cent of its equity to the major Gulf carrier, unconfirmed reports said, indicating that crucial issues relating to the stake sale have been sorted out between the two airlines.
Recently, Jet Airways informed the Bombay Stock Exchange that Jet and Etihad were in discussion regarding a potential investment by the latter in the former.
In a filing to the BSE on January 3, Jet said "discussions have commenced recently pursuant to the liberalised FDI Policy which permitted foreign investment in the shares of an Indian airline.
"The discussions are in progress, but no terms have been firmed up at present. Various structures are being explored by the legal and commercial teams and care being taken to ensure that all the Indian regulatory requirements are fully complied with".
If it goes through, this could be the first investment by a foreign carrier in an Indian airline following the liberalisation of the FDI policy in aviation to allow foreign airlines pick up stake in Indian carriers.

Both airlines are learnt to have appointed global consultants as they want the investments to be on a sound footing, given the high operating costs in India.

Etihad has in the past two years picked up stake in several international carriers like Virgin Australia, airberlin, Air Seychelles and Aer Lingus.

When Etihad was set up in 2003, it had sought the help of the Naresh Goyal-owned carrier to set up its systems and Jet had provided assistance with its specialists in various fields of aviation operations.

Unconfirmed reports had then said Goyal had also invested some money in the Gulf carrier.

A major reason for Goyal proposing to dilute part of his shareholding in Jet from 80 percent has been a recent order of the Foreign Investment Promotion Board (FIPB) to bring it down to the regulatory levels.

Jet and Etihad already have a code-sharing agreement. "This deal will be profitable to both. Jet can gain larger market share, while Etihad will get a major exposure in India and also strengthen its position in West Asia," an aviation analyst said.