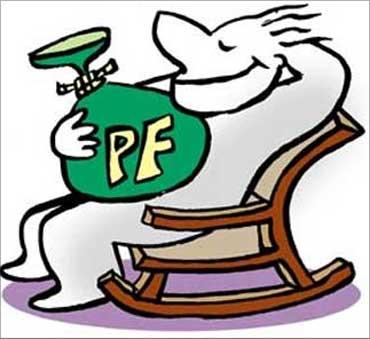 Retirement fund body EPFO settled 1.21 crore subscriber claims, including withdrawal and transfer of provident fund, in 2013-14, an increase of 13 per cent over the previous year.
The Employees' Provident Fund Orgainsation (EPFO) received Rs 71,195 crore as incremental deposits from its over 5 crore subscribers under social security schemes run by it during 2013-14, which is 16 per cent higher than Rs 61,143 crore collected by it in the previous fiscal.
"It was noted that the organisation created a new record by settling more than 1.21 crore claims in 2013-14, showing an increase of 13 per cent over previous year," the EPFO said in a statement after year-end review by Central Provident Fund Commissioner K K Jalan.
According to the statement, in March alone around 10 lakh claims were settled. The review showed that almost 98 per cent of claim settlements were within the mandated period of 30 days, it added.
During 2013-14, more than half of the field offices of the EPFO have settled 80 per cent of claims within 10 days and out of these, 19 offices had settled 80 per cent of the claims within 3 days.
EPFO has 123 filed offices across country. Grievance redressal continued to receive the top most priority by EPFO. As many as 15,500 grievances were settled in March, while a record 1,94,371 grievances were disposed of in 2013-14.
Around 4,300 grievances were left pending in 2013-14-end. EPFO's 108 offices out of total 123 were not having pendency of more than 15 days during 2013-14.