Over 50 million subscribers of the retirement fund body EPFO may get 8.5 per cent return on their investment during 2012-13, higher than 8.25 per cent provided in the last fiscal.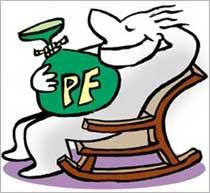 The body's proposal is likely to come up for discussion during its apex decision-making body Central Board of Trustees (CBT) scheduled on February 15, a source said.

"The EPFO has worked out 8.5 per cent rate of return for the current fiscal. It will not leave any deficit. However, the proposal has not been finalised as yet," the source added.

The Employees Provident Fund Organisation (EPFO) had paid 9.5 per cent interest in 2010-11, before scaling it down to 8.25 per cent in 2011-12
fiscal.
EPFO will place the proposal regarding the interest rate before its advisory body Finance and Investment Committee (FIC) at its meeting on February 14. Once approved by the FIC, it will go to Labour Minister-headed CBT for final approval.
The notification on interest rate is issued by the government after concurrence by the Finance Ministry.
Although EPFO announces interest rate at the beginning of the year, there has been a delay this time. Trade unions have been pressing for an early meeting of the CBT to decide on the interest rate for the current fiscal.