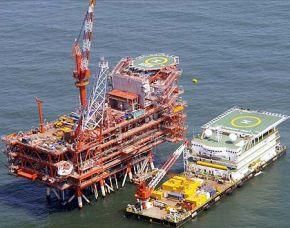 Shares of Reliance Industries fell 2.87 per cent a day after the Election Commission asked the government to defer its plan to increase gas prices to $8 a million British thermal units from April 1 until the general elections are over.

The fall has come despite the market's belief that the rise has only been deferred and not shelved.

Analysts are unanimous on the limited impact of the EC's move, as all it does is defer the higher realisations by a quarter for upstream oil companies.

According to Barclays, the impact on Reliance is less significant and the deferment would impact the company's earnings per share by two per cent.

The market broadly believes RIL is unlikely to be impacted by the move, given the sharp fall in KG-D6 volumes.

With the matter pending in court, many brokerages do not have a stance on the company.

However, the impact on state-owned oil companies could be slightly higher.

The Street was estimating realisations of $6.3 an mBtu for Oil and Natural Gas
Corporation and Oil India Ltd, as the companies will have to offer some subsidies to power and fertiliser companies.
As a result, the FY15 earnings of both would be impacted.
While Barclays has cut ONGC and Oil India's EPS by six per cent, other analysts believe the decline could be between Rs 18 and Rs 56 a share.
Ambit Capital estimates the impact to be Rs 18 a share (four per cent of the market price) for ONGC and Rs 14 a share (three per cent of current market price) on Oil India.
Most brokerages have a 'buy' on OIL and ONGC, as they believe that apart from the gas price increase, the subsidy burden on these two will decline in the next financial year and recoveries from oil will improve.
This decision is expected to have a positive bearing on distribution companies such as Gujarat Gas and Indraprastha Gas.
ICICI Securities has revised the FY15 EPS of both companies for the same reason.
Higher gas prices would hurt margins of users such as GAIL.
Therefore, if a price rise is deferred, it shores up their profit. Barclays has increased GAIL's FY15 EPS estimate by five per cent.