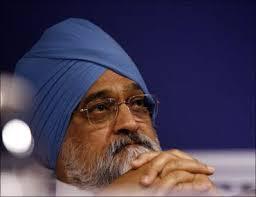 Planning Commission Deputy Chairman Montek Singh Ahluwalia on Wednesday said the current account deficit may remain between 2.5 per cent and 2.7 per cent of the gross domestic product this fiscal.

He also indicated that the current position of the rupee is competitive against world currencies.

"It is my view that gross domestic product would be significantly below 3 per cent. . . That time, the finance ministry said that it is going to be much better and I think he used the number like 3.7 per cent.

"But the good news is it is going to be below 3 per cent. . . significantly below 3 per cent.

"If I have to give a number, (I will put) somewhere between 2.5 per cent and 2.7 per cent," Ahluwalia told reporters on the sidelines of an event at Indian School of Business in Hyderabad.

CAD is a difference between outflow and inflow of foreign exchange.

It was at $88.2 billion or 4.8 per cent of GDP in the last fiscal.

The Finance Ministry expects it to be at $56 billion or less this financial year.

Last year it was 4.8 per cent.

On rupee's depreciation against global currencies, Ahluwalia said the present position of rupee is not bad for the country when compared with the situation a few months ago.

"I don't regard the present position of the rupee as bad for the Indian economy.

"Exports are doing well.

"At the earlier exchange rate that prevailed, we had become uncompetitive.

"At the present whatever 62-63, we are really quite competitive," he explained.

Rupee plunged to a new record low of nearly 68.85 against the dollar in August and is currently hovering between 62 and and 63.

On the projected target of 8 per cent GDP growth in the 12th Plan, he said it is achievable once the country overcomes the short term short-term problems.

"I think India can sustain is around 8 per cent growth. The fundamentals as far as we are concerned are strong. . . that we can easily sustain an investment rate of something like 36-37 per cent, with a 2.5 per cent of CAD, the domestic savings required will be 34.5 per cent.

"These are not difficult targets for us to achieve," he added.
Image: Montek Singh Ahluwalia