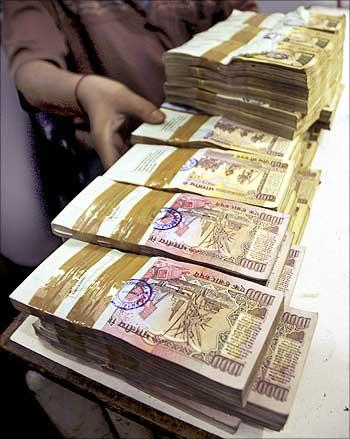 The past four years have been a wash-out for India Inc's profitability. In absolute terms, corporate profitability in the September 2013 quarter was lower than that four years ago and 27 per cent short of the peak scaled in the March 2011 quarter.
The combined net profit (adjusted for exceptional and non-recurring gains) of 2,875 companies - excluding oil and banking & financial ones - declined to Rs 48,351 crore (Rs 483.51 billion) in the September 2013 quarter, against Rs 48,665 crore (Rs 486.65 billion) in the December 2009 quarter and Rs 66,130 crore in the March 2011 quarter.
Core operating margins declined more than 300 basis points to 12.3 per cent, from 15.4 per cent in December 2009 and 16 per cent at peak.
The silver lining, however, is that revenues have seen a double-digit growth rate. Also, healthy growth in assets and net worth shows that any improvement in the macroeconomic environment may quickly translate into a quick turnaround in India Inc's financial fortunes.
"The profit potential of most companies has gone up significantly in the past few years, as these have expanded capacities and entered new markets. However, this is not reflected in their profit-and-loss accounts so far because of macroeconomic headwinds and demand suppression in many industries," says Nitin Jain, head of capital markets (individual clients group), Edelweiss Financial Services.
The moment economic factors like inflation, fiscal deficit and current account deficit turned benign and demand in key export markets like North America and Europe picked up, Indian companies could be back on the growth track, he added.
Net sales of these companies were up 62.3 per cent to Rs 8.91 lakh crore in September 2013, from Rs 5.5 lakh crore in the December 2009 quarter - an average annualised growth of 13.5 per cent during the period.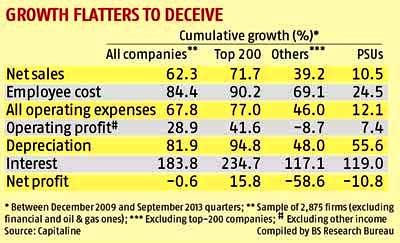 The growth numbers are even better for top firms. The 200 biggest ones in the sample (according to revenues in the past four quarters) saw a 72 per cent rise in their combined net sales - an annualised growth of 15.2 per cent during the period.
Their profits, however, lagged, growing at an annualised sub-five-per-cent rate. In the September quarter, these firms together accounted for three-fourths of the combined net sales and 90 per cent of the combined net profit of the sample.
This means, while India Inc's ability to generate profits has been rising consistently, every incremental growth in revenues yields lower profit. Given this, an improvement in macroeconomic factors from here would lead to a swift turnaround in India Inc's fortunes.
Analysts agree. "Since the 2008 financial crisis, companies' financial efficiency has been declining consistently due to a mismatch between revenues and production cost, besides a decline in capacity utilisation in the manufacturing sector," says Dhananjay Sinha, co-head of institutional equity, Emkay Global Financial Services.
The biggest dampening factor for companies has been a consistent rise in input costs and their inability to pass those on to consumers in a subdued economic environment.
The biggest one has been the employee cost, which has grown at a whopping 85 per cent in the past 16 quarters - ahead of other variables like raw materials, power and fuel.

Surprisingly, the top 200 companies (by revenues), have absorbed most of the rise in salary and wage bills, which have nearly doubled during the period.