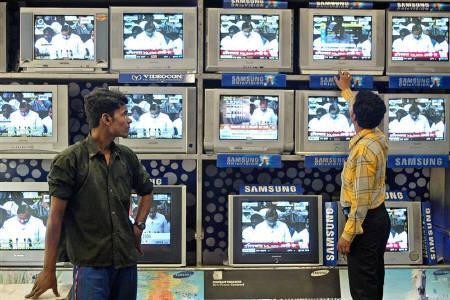 A poor monsoon, about 25 per cent below normal, leading to drought in many districts, seems set to hit sales for consumer durables and appliances companies.
This festive season, which will begin shortly with Onam in Kerala, followed by Dussehra and Diwali, is unlikely to be similar to earlier years.
Normally, it contributes 30-40 per cent of the annual sales of consumer durables companies.
However, unlike the 20-25 per cent volume growth that companies have seen in recent years, the growth is likely to come down to about 10 per cent this season.
A large chunk of festive sales come from rural and semi-urban areas; in big cities, sales are spread across the year.
While consumers in the latter are either salaried or from the business community, most of the consumer buying in rural and semi-urban areas depends on agriculture.
Some are linked to festive season sentiment.
According to executives at leading consumer durables companies such as Samsung, LG, Panasonic and Sony, who desired not to be named, conservative targets have been set for this festive season.
Some even said matching last year's sales figures might be good enough this time.
Others are banking on huge discounts and special offers to drive sales. Another reason why sales might not spurt could be that the replacement cycle for home appliances is getting extended and consumers are opting not to change their products too soon.
According to a top-level executive at Samsung, companies are yet to figure out the extent of impact of a poor monsoon on consumer durables.
The companies will naturally focus more on the metro and top cities this festive season, to counter the likely monsoon impact on sales in the rural and semi-urban areas.
A few have actually decided not to have the huge inventory they usually do before every such season. Even so, dealers, distributors and retailers are happy with the increased special incentives that consumer durables companies are offering them.
Kamal Nandy, business head and executive vice-president, Godrej Appliances, said: "We do anticipate an impact of scanty rains on sales in the north and central parts of India. Rains impact harvest and, hence, farm incomes. So, if rainfall is deficient, it does hit farming incomes. The north and central belt contribute about 40 per cent in terms of sales during the festive season. The balance 60 per cent comes from the south, west and east. We do not anticipate any problems in the latter. But, yes, the north and central could see an impact."
Added Shantanu Dasgupta, vice-president (corporate affairs and strategy), Whirlpool India: "It has been several years since we have seen growth of 20 per cent or more during Diwali. Our impression based on the current trend is that it might be a better Diwali than last year but unlikely to reach the heady levels we saw in 2010 (of 40-50 per cent growth). "
"This year's volume growth in appliances could be in the region of 10-15 per cent."
Yet, his company is targeting a 20 per cent growth even this Onam and aspires for a similar trend during Diwali, he added. Nandy said the emphasis will be on hire purchase or financing schemes to help consumers make purchase decisions, especially in the north and central parts. "The idea is to try and make products affordable for them," he explained.
Eric Braganza, president, Haier Appliances, said Onam in the first week of September is likely to give a hint to consumer durables companies on how the festive season could be for them this year.
"Secondary sales (from retailer to consumer) have been slow, barring the August 15 weekend which saw a spurt. I am not surprised with this muted response on the sales front; Q3 (July-September) is a weak quarter in consumer durables. The pick-up (in sales) generally happens in October. We are counting on that period, though, technically speaking, the festive season extends from September to October if you take into account the calendar of festivals this year," he said.
However, C M Singh, chief operations officer at Videocon Industries, does not expect a negative impact of poor rainfall on consumer durables companies.
"For the past three to four years, the weather impact on consumer durables sales has come down - generally, a spurt happens eight to 10 days before a festival. That has been the trend for the past few years and I don't see it changing, though there has been scanty rainfall in some parts such as Maharashtra and some parts of the north," he said.
In Low Spirits
• Cause of worry: Poor monsoon, about 25% below normal, leading to drought-like conditions in many districts
• Contributions from festive season previously: Normally, 30-40% of the annual sales of consumer durables companies
• Expectations this year: Unlike 20-25% volume growth that companies have seen in recent years, the growth is likely to come down to about 10% this season
• Company targets: Matching last year's sales figures might be good enough this time. Some are banking on huge discounts and special offers to drive sales
• Role of replacement cycle: Another reason why sales might not spurt could be that the replacement cycle for home appliances is getting extended and consumers are opting not to change their products too soon
• Strategy 2014: The companies will naturally focus more on the metro and top cities this festive season, to counter the likely monsoon impact on sales in the rural and semi-urban areas. A few have actually decided not to have the huge inventory they usually do before every such season
• India spread: The north and central belt contribute about 40% in terms of sales during the festive season. The balance 60% comes from the south, west and east