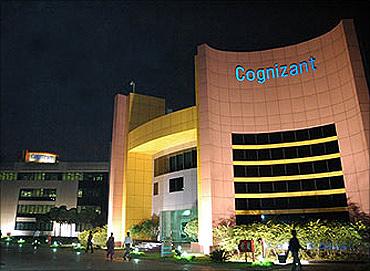 US-based IT services major Cognizant on Wednesday reported a 16.3 per cent rise in net profit at $324.3 million for the fourth quarter ended December 31, helped by broad-based growth across industries and geographies.
The Nasdaq-listed firm -- which last month celebrated its 20th anniversary -- had posted a net profit of $278.8 million in the year-ago period, it said in a release.
Revenues for the reported quarter rose 21 per cent to $2.36 billion in October-December 2013 from $1.95 billion in the same quarter of 2012.
Cognizant follows January-December as fiscal year. On a quarter-on-quarter basis, Cognizant's revenues were up by 2.2 per cent and net profit rose by 1.5 per cent.
In the July-September quarter, it had posted revenues of $2.31 billion and net profit of $319.6 million.
For the entire 2013 fiscal, the New Jersey-headquartered firm's revenues rose by 20.4 per cent to $8.843 billion, while net profit was up by 17.1 per cent to $1.23 billion.
Commenting on the performance, Cognizant president Gordon Coburn said: "Our growth during 2013 was broad-based across our industries, geographies and service lines."
This "strong growth" was fueled by clients' on-going drive to 'run better' for efficient and productive operations and to 'run different' to create the capabilities and business models they need for future success, he added.
"Our strategy through these twenty years has been to challenge the status quo and constantly reinvent for the future, thus positioning us to help our clients build stronger
businesses. We believe that we are well positioned to continue to do so in 2014 and beyond," Cognizant CEO Francisco D'Souza said.
Aided by a rise in demand for outsourcing services and uptick in discretionary spend on consulting and technology services last year, Cognizant said it expects revenues of $2.42 billion in January-March 2014 and $10.3 billion for the full 2014 fiscal.
"We further strengthened our balance sheet during 2013, allowing us to continue to support our industry-leading growth, by investing in service line capabilities, industry expertise, new technologies, new delivery platforms, and expanded geographical reach," Cognizant CFO Karen McLoughlin said.
The company added about 5,000 people (net) during the December quarter taking its total headcount to around 171,400 at the end of December 2013. Though, Cognizant is not listed on the Indian bourses, about 75 per cent of its employees are based in India.
The firm's cash and cash equivalents stood at $2.21 billion at the end of the December quarter.