The Public Accounts Committee (PAC) of Parliament has sought answers from the central and state governments on the controversial coal block allocations, as the latter two disagree on which agency was responsible.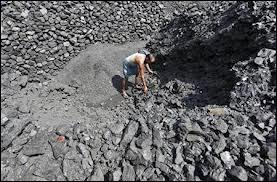 The allocations followed two stages. While recommendations to allocate were made by states and accepted by the Centre, the guidelines for comparative evaluation of applicants were framed by the Centre.
Nudged by the parliamentary panel, the coal ministry has, for the second time, written to all state governments, seeking the basis of states' recommendations for the allocation. States allege in several cases their recommendations weren't accepted.
The Comptroller and Auditor General (CAG), which blew the lid off the alleged Rs 1.86-lakh-crore coal allocation scam in August last year, recently told the PAC the ministry hadn't provided all the details of the basis of recommendations by states. Following this, the PAC had sought from the coal ministry the details and the basis of all recommendations since 1993, as well as the records of the basis on which the Centre had accepted these.
"Some state governments have complained their recommendations were not accepted by the Centre. The PAC has asked state governments and the Centre to provide the details of the criteria used for allocation of blocks. PAC wants to find out whether there were any criteria for the allocation. It has also asked whether the protests raised by state governments were recorded," said those in the know of the development.
Till 2009, the government had allocated 196 blocks, with reserves of 41.4 billion tonnes, to public and private companies, through a screening committee route. An inter-ministerial panel headed by the coal secretary, with representation from state governments, had recommended the allocation of blocks. However, in its audit report tabled in Parliament on August 17, CAG had said there was no comparative evaluation.
"Till 1993, there were no specific criteria for the allocation of blocks. Most of the allocations were based on letters of recommendation from the state governments concerned," CAG had said.
The governments of Madhya Pradesh, Chhattisgarh and Odisha have raised the issue of recommendations before the PAC. They argue while they had sent recommendations for companies setting up power plants in their state, there were instances in which the screening committee didn't allocate blocks on the basis of these.