California has slapped nearly $1 million in fines on Chevron for safety violations related to an August fire at its refinery in Richmond, representing the biggest such penalties in the state's history, regulators said on Wednesday.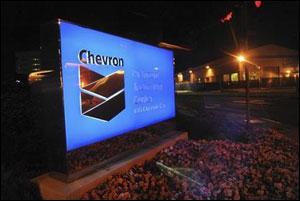 Chevron received 25 citations from the state's safety regulator.
Investigators found willful violations in Chevron's response before, during and after the Aug. 6 fire at the Richmond refinery, located northeast of San Francisco, that sent a smoke column over San Francisco Bay and thousands of people to hospitals.
The oil giant did not comply with state safety standards, putting workers at its refinery and the public at risk, the California Division of Occupational Safety and Health (Cal/OSHA) said.
Chevron also failed to follow recommendations by its own experts to replace the corroded pipe that ultimately ruptured and caused the fire. When the pipe began leaking, Chevron did not follow its own emergency shutdown procedures, putting workers at the site and thousands of areas residents at extreme risk, Cal/OSHA said.
While no serious injuries were reported among workers at the refinery, at least 15,000 people complaining of respiratory problems went to area hospitals in the hours and days after the fire.
The citations include 11 "willful serious" and 12 "serious" violations, resulting in the highest penalties in Cal/OSHA history.
A Chevron spokesman said while the company acknowledged that it failed to live up to its own expectation in the incident, it did not agree with several Cal/OSHA findings and its characterization of some of the violations as "willful." The spokesman said the company plans to appeal.
A scientist with an environmental group said the safety report provided a disturbing picture.
"As an engineer, it's shocking to see the photos and reports from Cal/OSHA and other agencies, showing pieces of piping that were corroded by 80 percent with little more than a shell of the original pipe holding things together," said Diane Bailey, a senior scientist with the Natural Resources Defense Council.
"This kind of shoddy and seriously negligent maintenance is not what you expect to see from one of the largest companies in the world," she said.
Earlier this week, Chevron said it has paid $10 million in claims stemming from the crude unit fire at its 245,000-barrels-per-day refinery in Richmond.