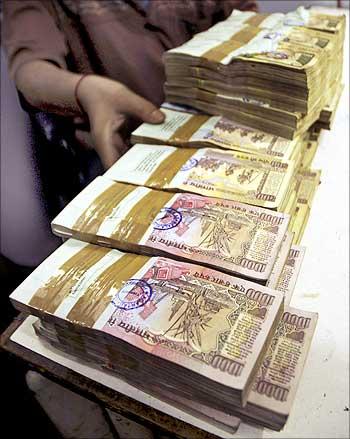 The Annual Plan for Railways in 2013-14 financial year is proposed at Rs 63,363 crore, Union Railway Minister Pawan Kumar Bansal said.
"A plan investment of Rs 63,363 crore is proposed for 2013-14," Bansal said while presenting the Railway Budget in Parliament.
"The Plan is proposed to be financed through Gross Budgetary Support (GBS) of Rs 26,000 crore, Railways share in Road Safety Fund of Rs 2,000 crore, internal resources of Rs 14,260 crore, market borrowings of Rs 15,103 crore and an expected mobilisation of Rs 6,000 crore through the Public Private Partnership (PPP) route," he added.
The Minister said that the thrust of the plan is on doubling of tracks, safety and passenger and staff welfare.
"I have increased the outlay for doubling of tracks, safety and passenger and staff welfare from about Rs 11,410 crore in 2012-13 to Rs 13,220 crore, an increase of 16 per cent," he said.
The freight earning target has been increased by 9 per cent to Rs 93,554 crore and the number of passengers is expected to increase by 5.2 per cent, the minister said.
Bansal, who is first the first Congress minister to present a Railway Budget in the last 17 years, today spared passengers from any further hike in fares but raised various other charges on tickets along with freight tariff of less than 5 per cent.
In his 75-minute speech which was drowned in opposition slogan-shouting towards the end, Bansal said there are a number of supplementary charges which have not been revised for last several years.
Bansal, however, proposed to abolish the concept of enhanced reservation fee with a view to simplifying fee structure, having already discontinued development charge in January this year.
In January, the Minister had effected an across-the-board hike in passenger fares that would net Rs 6,600 crore a year.
However, the subsequent hike in diesel price and electricity charges put an additional burden of Rs 3,300 crore on the railways which is projected to see a loss of Rs 24,600 crore in the current financial year, up from Rs 22,500 crore in 2011-12 in passenger traffic segment.