Reserve Bank of India Governor D Subbarao today said a growth rate of five-six per cent is not sufficient for the economy, which has the potential to grow at double digit rate provided some issues are addressed. "If we do the right things, we can get back on the track of the double digit growth," he said at the IIT Kanpur alumni meet here.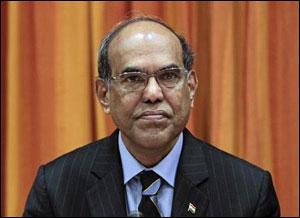 Pointing out some of the long-term challenges for the growth, Subbarao said there is a need for stable and predictable macroeconomic environment, removal of infrastructure deficit, skill improvement and job creation.
He said there is also need for raising agriculture productivity, and improvement of social sector outcome.
"We are quite happy that India is growing at five-six per cent, but I must tell you that is not sufficient. That is much less than our potential ... Unless we grow at nine-10 per cent year on year for about 10 years we cannot pull 100s of millions of people out of poverty," he said.
"India consists of the largest number of poor people in the world. India has more poor people than the entire economy of South Africa," Subbarao, also an alumnus of IIT Kanpur, added.
Citing examples from the past, he said Indian economy grew by 9.5 per cent on an average three years before the global crisis of 2008.
"But today, the story has reversed, growth is moderating. This year we are going to grow at five per cent (2012-13), which is the lowest in a decade. Inflation is still high and stubborn. Balance of payments is under stress. Decline in investments is a worry. Investments not taking place today, that's a worry," he said.
""So people worry whether we have got derailed from the high growth trajectory. My short answer to all those questions is that the India story is still intact and India's growth story is still credible," he said.
The long-run drivers of India's growth story is still intact, he added. However, growth slipped to a decade low of 4.5 per cent in the third quarter of the current financial year.
According to the CSO estimates, the economy is expected to grow at five per cent for the entire fiscal, against 6.2 per cent in 2011-12 and 9.3 per cent a year before that.
The latest Economic Survey released last week said Indian economy is likely grow at a rate of 6.1 to 6.7 per cent in the next fiscal claiming that the downturn is more or less over and economy is looking up.
If RBI Governor D Subbarao's prediction is anything to go by, the Euro zone crisis is likely to be over with expiry of his term in September this year.
The global crisis and Euro zone crisis will end with the expiry of my term as RBI governor, Subbarao told his fellow alumni of IIT Kanpur in a lighter vein here today.
"People ask me when is this global financial crisis that is reeling for the last five years will be over. I have never answered the question but I am going to give the answer today," he said.
The RBI governor, a 1972 batch IAS officer, said, "I was appointed governor on September 5, 2008 and two weeks later the Lehman Brothers collapsed ... So there was an association with Subbarao becoming the Governor and the world economic crisis."
Subbarao further said, "So my term was initially for three years. So people thought when my term will be over, the crisis will be over because there was a co-relation between Subbarao and financial crisis."
And then in August 2011, he said the government renewed his term for two more years. "And two days after that Euro zone crisis happened. So again it established a co-relation. So, that is why Euro zone crisis and the global crisis will be over when my term comes to an end," he said.
"Among group of friends and well wishers, I thought I should give exclusive answer (on when the global economic crisis will end)," he added.
Subbarao's term as governor of RBI comes to an end on September 4. Financial services firm Lehman Brothers had filed for Chapter 11 bankruptcy protection on September 15, 2008, triggering the global financial meltdown. The filing remains the largest bankruptcy filing in the US history, with Lehman holding over $600 billion in assets.