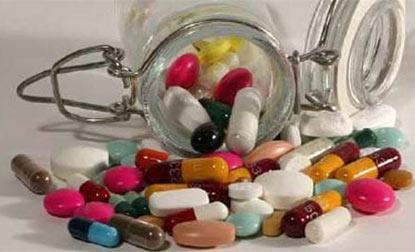 The launch of anti-asthma metered dose inhalers (MDI) by Cipla in Germany and Sweden boosted market sentiments.
Adding to the recent rally wherein Cipla has outperformed its larger peers, the stock jumped five per cent on Tuesday and scaled at an all-time high of Rs 575.20 on this news.
Although the earnings implications are unlikely to be significant for now, getting an approval for the launch of such a product in regulated markets is a feat in itself, which many global players would envy.
It has also boosted market's confidence over future launches of the product in bigger markets as the UK, and similar respiratory products in other markets by Cipla.
Consider this. The product launched by Cipla is a generic version of Advair (a GlaxoSmithKline brand), the metered dose combination inhaler.
The combined market size for the product in these two countries stands at $100 million per annum.
So, after discounting for the price erosion, the generic launch might not immediately boost Cipla's earnings.
But, it paves way for its launch in other parts of Europe and the UK, the largest market for the product. And then, the gains will be huge.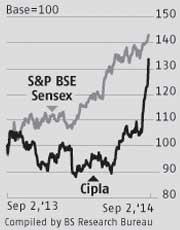 For instance, the UK is estimated to be a $420 million market, while the European Union as a whole is estimated to be $2 billion market.
With this launch not only the opportunity in the MDI segment is increasing, but the opportunity for dry powder inhalers (DPI), which Cipla is expected to launch in a few years, believe analysts.
Analysts at Kotak Institutional Equities estimate Cipla to generate $50 million sales in the European Union in FY16 based on a conservative market share assumption of 10 per cent.
They expect this product to reach $110 million in peak sales by FY18 once the company achieves full penetration with potentially 2-3 additional competitors.
The opportunity in the US market is also likely to unfold for Cipla in the longer term (three to four years), as it has stepped up filings.
For the existing business, the company continues to do well and analysts see significant upside for earnings.
The earnings that are estimated to grow by 18 per cent in FY15 are seen growing by 40 per cent in FY16. Looking at the strong price run-up (21 per cent since mid-August versus 9-11 per cent for larger peers), most analysts have a neutral rating on the stock, trading at a PE of 18-19 times FY16 earnings.