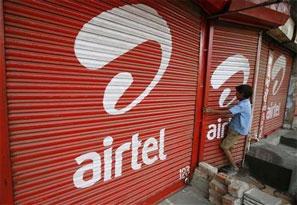 Bharti Airtel, India's top telecommunications carrier, said its quarterly net profit rose for the first time in four years but was sharply lower than forecast.
Bharti Airtel, nearly a third owned by Southeast Asia's top phone carrier SingTel, said it was helped by lower competition and an increase in voice call prices.
Its consolidated net profit was Rs 610 crore (Rs 6.10 billion) for the fiscal third quarter ended December from Rs 284 crore (Rs 2.84 billion) a year earlier.
Net income before exceptional items was Rs 832 crore (Rs 8.32 billion), Bharti said in a statement.
Analysts had expected a net profit of Rs 1,044 crore (Rs 10.44 billion) for the New Delhi-based company that operates mobile phone services in 20 countries across Asia and Africa.