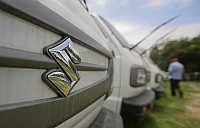 Maruti Suzuki India said it has started spadework to set up its second facility in Gujarat with acquisition of another 600 acres, in addition to its existing plan to invest Rs 4,000 crore (Rs 40 billion) for setting up a plant in the state.
The company also said it expects about 6-7 per cent sales growth in 2013-14 after closing the current fiscal with about six per cent rise in vehicle sales. The country's largest car maker also said it will not enter the premium segment of passenger cars in India and will "protect" its image of a small car manufacturer.
"We have land at two locations in Gujarat. The first one is offered by the government and the second one is a private land that is directly acquired by us with some negotiations by the government," Maruti Suzuki India Chairman R C Bhargava told reporters in New Delhi.
The company has acquired about 600 acres, located about 40 km from the first site near Mehsana, he added. "The second location is for our future expansion. Once we exhaust the capacity at the first site, we will move to the second one," Bhargava said.
He, however, did not share details such as when the firm is likely to start construction at the second site. When asked if MSI is shifting its focus from Haryana, where it has recently witnessed severe labour unrest, Bhargava said: "We are not moving away from Haryana. We have two plants in the state and going to Gujarat after utilising
the capacity completely at Gurgaon and Manesar. We will do the same once we exhaust the capacity in Gujarat also."
He said the company will do the ground breaking ceremony for the Gujarat facility early next year.
MSI had earlier this year announced to invest Rs 4,000 crore, its biggest ever outside Haryana, to set up a 700-acre new production facility in Gujarat by 2015-16. Besides, components suppliers of the company are also likely to make an equal amount of investment to set up their respective plants.
The capacity in the first phase will be 2.5 lakh units a year. Talking about the company's performance in this fiscal,
Bhargava said: "We are going to end this year with a growth of about six per cent over last year. Overall, there is a sign of softening in India's car market due to various factors."
During the next financial year, the company is not expecting anything better than the current fiscal and it will grow in single digit only, he added.
"We hope to grow 6-7 per cent growth at best in next fiscal, which is going to be the election year and so we don't expect anything drastic happening," Bhargava said.
Commenting on exports, MSI Managing Director and CEO Shinzo Nakanishi said MSI is finding it tough due to the decline in European market. "Last year we had a total export of 1.27 lakh units. This year we may be a little less than that because of the slowdown in Europe, which used to be our biggest overseas market."