Auditors of debt-ridden Kingfisher Airlines today said that the carrier's third-quarter net loss would have been much higher at Rs 1,090 crore (Rs 10.9 billion), had it followed "generally accepted accounting standards" in realisation of aircraft-related costs, taxation and loans.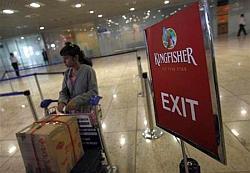 For the third quarter ended December 31, 2012, Kingfisher on Tuesday reported a net loss of Rs 755.17 crore (Rs 7.55 billion) - a sharp increase of 70 per cent from Rs 444.26 crore (Rs 4.44 billion) in the year-ago quarter.

The grounded airline did not report any revenue for the quarter, as against Rs 1,367.71 crore (Rs 13.67 billion) in the third quarter of previous fiscal.

Kingfisher Airlines, part of liquor baron Vijay Mallya-led UB Group, had last posted a quarterly profit in October-December period of 2006 (Rs 9.6 crore or Rs 96 million), while it has never posted a profit on full-year basis.

In their 'limited review report' for its third quarter results, the auditors said the losses would have been Rs 1,090.34 crore had the company used generally accepted accounting standards.

The auditors, B K Ramadhyani & Co, said in its report that the accounting method used by the airline to calculate costs incurred for maintenance and repairs of aircraft was "not in accordance with generally accepted accounting standards prevalent in India."

Besides, the company's reserves as on March 31, 2012, would have been a debit of Rs 1,046 crore (Rs 10.46 billion) as against the reported figure of debit of Rs 6,213.14 crore (Rs 62.13 billion),
auditors said.
They have also drawn attention to Kingfisher's financial statements being prepared on a 'going concern' basis, notwithstanding the fact that the company's net worth is eroded.
"The appropriateness of the said basis is inter-alia dependent on the company's ability to obtain renewal of the scheduled air operator's permit by the DGCA, infuse requisite funds for meeting its obligations, rescheduling of debt, other liabilities and resuming normal operations," the auditors said.
"During the quarter under review, Kingfisher did not have any operations. The company submitted a revival plan to the DGCA for renewal of its scheduled operator's permit and for restart of operations," the company said in a stock exchange filing.
"Kingfisher has made significant progress in complying with the DGCA requirement," the airline added.
Kingfisher, which has debt of nearly Rs 8,000 crore (Rs 80 billion) and accumulated loss and liabilities of a similar amount, has been grounded since October 1 after its pilots and engineers went on a strike over non-payment of salaries.
"Estimates of number of unflown tickets and their average value, based on which management has reportedly estimated the amount of unearned revenue, not being drawn from accounting records, could not be reviewed by us," the review report said.