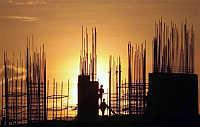 The 32-km Phase-II of the Mumbai Metro project, bagged by Reliance Infrastructure (R-Infra), faces termination in the absence of substantial progress.
The Mumbai Metropolitan Region Development Authority, planning and nodal agency for the project, has written to the Maharashtra government to terminate the concession agreement signed with the R-Infra-led consortium in January 2010.
The Rs 11,000-crore (Rs 110 billion) project has been mired in controversies, delays and litigation. The final decision on this is awaited and is likely to be taken after the ongoing state legislature session in Nagpur. A senior minister, who did not want to be named, told
Business Standard
: "The government has received MMRDA's communication and will take a call on the cancellation of the project."
An R-Infra spokesperson said the company was not aware about the government plan to scrap the project. "We have fulfilled all our conditions in the concession agreement. We are waiting for the government to fulfil its conditions."
He said the company had so far spent Rs 100 crore (Rs 1 billion) on designing and related works, besides Rs 160 crore (Rs 1.6 billion)
deposited as bank guarantee. This could be the second major infra project to be buried, after the Rs 5,000-crore (Rs 50 billion) Worli-Haji Ali sea link. Incidentally, the latter, too, had been awarded to R-Infra, which decided to leave the project after a dispute with the government.
In the Delhi Airport Metro Express project, R-Infra and Delhi Metro Rail Corporation are heading for arbitration. The Metro line has been shut since July 8. The ground work to shelve the Mumbai Metro Phase-II had begun in September when MMRDA wrote to Mumbai Metro Transport Private Ltd to commence construction work.
The firm said it could not do so till the issues related to environment clearance for car depots at Mankhurd and Charkop and right of way were sorted out.
Besides, it said, there were other unresolved issues related to amendment in rules to allow commercial development at Metro stations, restrictions on construction near the Juhu airport and problems regarding shifting of underground utilities.
"The project can't be left hanging fire. There has to be a conclusion," a senior MMRDA official said.
Another government official said: "Metro is a public infrastructure project and Reliance should have had faith in the government."