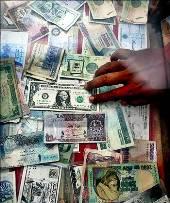 India needs to 'seriously' look at currency swap arrangements with various important trading partners with a view to stabilise the domestic currency, Commerce and Industry Minister Anand Sharma said on Tuesday.

". . . I was referring to possible trading in your national currency, currency swap with some of the countries, which we need to look at very seriously. I want wisdom of our bankers, export promotion council and industry leaders to guide us... if we identify four big ones, it will help, particularly at this juncture," he said.

Sharma was addressing the members of the Board of Trade, a body comprising captains of Indian industry.

The rupee has been consistently hitting record lows and breached 66 to a dollar during the intra-day
on Tuesday.
Since April 30, the local currency has depreciated by nearly 15 per cent.
Sharma said rupee depreciation was not helping exporters because most of the exports were dependent on imported raw material.
Meanwhile, Federation of Indian Export Organisations President Rafeeque Ahmed said, "We can look at currency swap arrangement with China, Japan and European Union, among other nations."
Exports during the month of July grew by 11.6 per cent, snapping a consecutive two months decline.
Besides the representatives of RBI, SBI and Exim Bank, on Tuesday's meeting was attended by Revenue Secretary Sumit Bose, DIPP Secretary Saurabh Chandra and Commerce Secretary S R Rao.