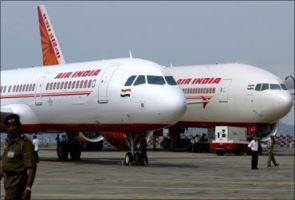 Air India is hopeful of meeting its financial targets in the second quarter of this fiscal despite an 'unexpected' increase in aviation fuel cost and wild fluctuation of rupee against the dollar, a senior official said.

"Though we are facing unexpected increase in aviation turbine fuel cost and wild fluctuation in rupee value against the dollar, we are hopeful that we would be able to achieve our financial targets," Air India CMD Rohit Nandan told reporters.

He said the national carrier has managed to bring its losses down to about Rs 11 crore (Rs 110 million) per day from around Rs 50 crore (Rs 500 million)
per day.
"We were give some financial targets by the government as part of our turnaround plan, and we have met them and registered EBDITA positive for the first time in seven years, despite a strike last year," he said, on the sidelines of a function to launch Air India-SBI co-branded credit card.
Air India had last year faced about two-month-long strike by its pilots.
The national carrier had managed to contain its losses, but depreciation of rupee hit it hard, as it was facing a loss of Rs 100 crore (Rs 1 billion) every month for every rupee depreciated.