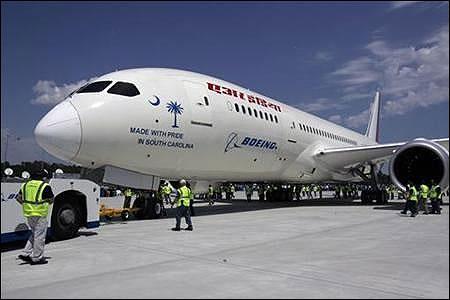 Air India has deferred inducting the 16th Dreamliner into its fleet as the aircraft experienced technical trouble during recent test flights in Seattle headquarters of the US manufacturer Boeing.
A team of Air India pilots and engineers, which recently conducted the pre-delivery test flights, returned here a few days ago as the brand new plane was sent back to the factory to rectify certain major technical issues, airline officials said.
The national carrier, which has ordered 27 of these latest airplanes, currently has 15 of them in its fleet and is expecting deliveries of three more till the year end.
Maintaining that the latest aircraft had started giving trouble from the first test flight itself, the officials said Air India would not take its delivery till all problems are corrected.
They said as the glitches continued to recur during subsequent flights despite a team of Boeing engineers trying to rectify the defects, the plane had to be sent back to the Boeing factory.
The national carrier would now send a team of senior engineers to oversee the process of rectification of the technical glitches being carried out there, they said.
Apart from the technical glitches, several incidents of windshield cracks have also been reported on the Dreamliner aircraft not only in the fleet of Air India but other airlines as well, like All Nippon Airways and Ethiopian Airlines.
Air India has taken up the issue with Boeing which has informed it that "old windshields shall be replaced by new ones with improved design features," Minister of State for Civil Aviation GM Siddeshwara said in Parliament two days ago.
However, he also said that the "cracking of the outer glass ply does not affect the safety of the airplane due to the windshield's fail safe (multiple-layer) construction".
Since the first Dreamliner was inducted by Air India in September 2012, 318 instances of flight delays have been reported till June this year due to technical snags, out of the total of 9,902 take offs in these planes, figures tabled in Parliament showed.