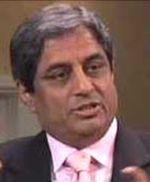 HDFC Bank's Managing Director (MD) Aditya Puri retained his position as the highest-paid banking chief in the country in financial year 2013-14 (April-March). Puri, who is also the longest serving chief of an Indian bank, received remuneration of Rs 6.07 crore in 2013-14, or 20.9 per cent more than what he earned in the previous year.
Chanda Kochhar, MD and CEO (chief executive officer) of ICICI Bank — the largest private sector lender in the country — received an increment of only two per cent during this period. She earned Rs 5.23 crore in 2013-14.
However, the remuneration of Puri and Kochhar are not strictly comparable as the two banks follow different accounting practices.
"ICICI Bank reports 'earned salaries' in its annual report, a prudent reporting practice. However, a few other banks report 'paid salaries' in their annual reports.
Hence, the salaries of CEOs across the banks are not strictly comparable. If we were to report our MD and CEO's 'paid salary', it would have increased similarly," a spokesperson of ICICI Bank said in an e-mailed response.
According to industry experts, if ICICI Bank was to report Kochhar's 'paid salary' it would have been a little less than Rs 5 crore in 2013-14 compared to Rs 4.1 crore a year earlier, representing an increment of around 20 per cent.
Shikha Sharma, managing director and chief executive officer of Axis Bank, was paid a salary of Rs 3.75 crore in 2013-14 compared with Rs 2.63 crore in the previous year.
However, unlike Puri and Kochhar, Sharma's salary does not include retirement benefits such as gratuity and provident fund contributions.