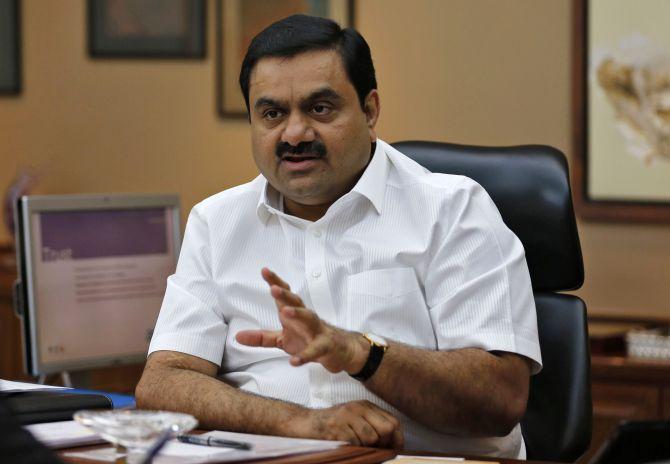 The past 90 days have been a dream run for Gautam Adani, chairman of the Ahmedabad-based Adani group.
The 52-year-old billionaire had on May 16 announced a Rs 5,522-crore (Rs 55.22 billion) takeover of Odisha's DhamraPort from Larsen & Toubro and the Tatas.
The same day, the Narendra Modi-led Bharatiya Janata Party won the Lok Sabha elections.
He has now followed it up with another acquisition - of Lanco's Udupi power plant for Rs 6,000 crore (Rs 60 billion).
And that's not all. Media reports suggest the group plans to set up a Rs 30,000-crore (Rs 300 billion) oil refinery in association with Indian Oil, putting in land as equity, besides a Rs 4,500-crore (Rs 45 billion) liquefied natural gas terminal with GSPC.
The group has also received the long-awaited environmental clearance for its Mundra special economic zone.
Good news just kept pouring in for Adani, as he received the Australian government's approval to develop a coal mine for as much as $16.5 billion - despite stiff opposition from Greenpeace and natives.

While governments are rolling the red carpet for Adani, shareholders are not complaining, either. The market value of the group's listed companies has risen Rs 8,660 crore (Rs 86.60 billion) since the election results were announced on May 16.

Clearly, Adani, who was under attack from Congress Vice-President Rahul Gandhi in the run-up to the polls, is now a man on a mission.

The group is also bidding to provide piped gas to 14 cities in association with Indian Oil Corporation, apart from other initiatives. And, if bankers are to be believed, Adani is on the prowl for more assets in the power sector.

Interestingly, Reliance Industries, controlled by Mukesh Ambani, another businessman targeted by Gandhi, has lost Rs 16,477 crore (Rs 164.77 billion) of its market value in the past three months.
Adani's rise coincided with Modi's as Gujarat chief minister.
The group's revenue grew at a compound annual rate of 25 per cent from Rs 3,700 crore (Rs 37 billion) in 2001-02 (Modi took charge as CM in October 2001) to Rs 55,000 crore (Rs 550 billion) by the year ended March 2014.
The group's net profit rose at CAGR of 31 per cent from Rs 84 crore (Rs 840 million) in 2002 to Rs 2,220 crore (Rs 22.20 billion) this year.
During this period, Adani, who started as a trader, built a world-class port and a special economic zone in Gujarat's Mundra.
Adani also set up power projects across the country, including in Odisha, Chhattisgarh, and Maharashtra.
During the past 12 years, the Adani juggernaut has continued to roll in India and he has also focused abroad - he bought coal mines in Indonesia to fuel his power stations in India.
In 2011, Adani took a big step forward by buying Abbot Point coal terminal in Australia for $2 billion.
The port was later taken over by the promoters, as analysts raised objections over the high debt of the company. The group's debt, at the same time, also rose to a massive Rs 78,000 crore (Rs 780 billion).
PURPLE PATCH?
Adani's key announcements since election results
•May 16: AdaniPorts & SEZ buys DhamraPort from L&T and Tata Steel for Rs 5,522 cr
•Jul 16: Adani gets environmental clearance for Mundra SEZ
•Jul 22: APTEL allows Adani to charge higher rates from state utilities
•Jul 27: Australia approves Adani's $16.5-bn Carmichael coal mines
•Aug 9: Adani says it will build Rs 30,000-cr oil refinery with IOC
•Aug 10: Adani says it will build Rs 4,500-cr LNG terminal in Mundra with GSPC
•Aug 12: Adani and IOC bid to supply piped gas in 14 cities
•Aug 13: Adani buys Lanco's Udupi power plant for Rs 6,000 cr