Government gives 3 months, starting June, for the 20 districts to be covered under its direct benefits transfer scheme
Home consumers of cooking gas (LPG) in 20 districts have to now get their Aadhaar number and link it with their bank accounts if they wish to get their subsidy allotment of nine cylinders a year. They have three months, starting June 1, to do so or lose their entitlement.
This mandatory requirement is part of the Direct Benefits Transfer (DBT) scheme for LPG customers announced on Wednesday. Petroleum Minister M Veerappa Moily said, "A reciprocal initiative has to be taken by consumers."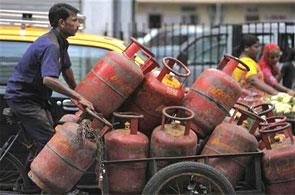 He said all LPG consumers would get an advance in their bank account as soon as they booked the subsidised cylinder, even before delivery.
The launch of DBT in LPG is the biggest programme under the new government policy of direct credit of subsidy. There are 140 million LPG consumers in the country. "So, the first step is a small one," said Vivek Rae, secretary, ministry of petroleum and natural gas.
On why Aadhaar had been made compulsory, Rae said, "If you want LPG subsidy, then Aadhaar is compulsory."
There is 89 per cent Aadhaar penetration in these districts and 52 per cent seeding with the LPG data base of some 7.5 mn consumers in the 20 districts. Seeding with bank accounts is 15 per cent. The 20 districts comprise five in Andhra, four in Himachal, two each in Karnataka, Kerala and Madhya Pradesh, one each in Daman and Diu, Goa, Maharashtra, Puducherry and Punjab.
An assessment would be done after a month. "We will review the scheme and then extend to other districts," said the minister. Once implemented, the government will transfer close to Rs 4,000 to every household annually, to enable people to buy nine cylinders of LPG at the current market price.
Currently, state-owned oil firms sell domestic cooking gas at Rs 410.50 for a 14.2-kg cylinder. Consumers are entitled to get nine cylinders of 14.2-kg each at the subsidised rate in a year. Each consumer will get a little less than Rs 4,000 annually but will have to buy LPG at the market price.
A fourth of the LPG subsidy would be released by the ministry of finance every quarter to oil marketing companies, which would be responsible for crediting into the accounts of consumers.
Photograph: Danish Siddiqui/Reuters