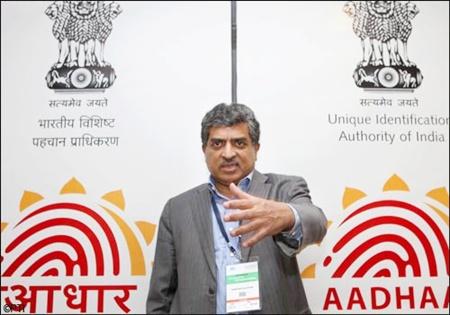 One out of every two Indians would have Aadhaar number by the middle of 2014, UIDAI Chairman Nandan Nilekani has said as he underlined the unique attributes of the identification system that will lead to public sector reform and governance transformation.
"Aadhaar number is a very different kind of ID system. It has certain properties that no other ID system has," Nilekani, who is due to deliver Australia India Institute (AII) oration on 'India's Transformation: The Role of Information Technology', told PTI.
"It is a unique number which is very useful in removing duplication of those in the list of beneficiaries. It reduces the diversion of benefits and only genuine people receive benefits," he said. However, he did not comment on the Supreme Court's interim ruling which announced Aadhar number as a non-compulsory ID.
Stating that apex court's stand was a subjudice matter, Nilekani stressed that the Aadhaar number was beneficial for a variety of reasons including financial inclusion, direct benefit transfer, identity and subsidy reform.
"It can be used as a financial address and linked to it one can have a bank account, send money to another Aadhaar number, get access to public services and also use it for an online authentication of ID for service delivery," he said.
"It has very unique attributes which no other ID system has and I think it is the key to public sector reform and governance transformation," Nilekani commented. "We have already issued 450 million Aadhaar numbers. In September alone, we issued 25 million Aadhaar numbers and by middle of 2014 we should be able to issue 600 million," he said.
"This means that one in two residents in India will have Aadhaar," he said. He it is a cost effective scheme and less than Rs 3,000 crore (Rs 30 billion) have been spent on it till now.
"It is a cost effective scheme with long term gains. We have already done a lot of work in cash transfers. We have done more than 10 million cash transfers for various
services like LPG subsidies as well 10 million online authentications. We have over 30 millions bank accounts that have been connected to Aadhaar numbers."
He further cited the last year's National Institute of Public Finance and Policy study paper which had estimated that Aadhaar could save around Rs 110,000 crore (Rs 1.10 trillion) of the government expenditure by 2020 on various public service scheme.
"There will be a small recurring cost involved, for example, updates like change of addresses and online authentications. However, cost to run that will be marginal as compared to long-term gain," he said.