'The Budget targets are achievable, but they require continued discipline and that the government sticks with the efforts to cut red tape and make business in India more efficient.'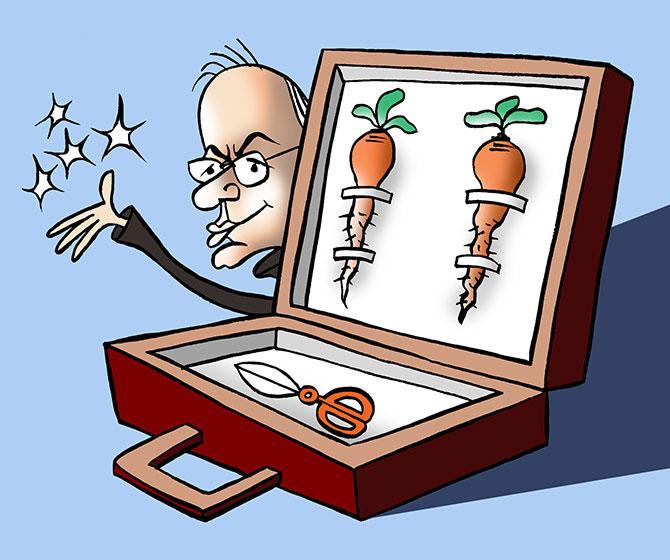 IMAGE: 'The Budget was prudent. Its targets are achievable, but they require continued discipline and that the government sticks with the efforts to cut red tape and make business in India more efficient,' says Jan Dehn, head of research, Ashmore Investment Management Ltd. Illustration: Uttam Ghosh/Rediff.com
Jan Dehn, head of research at the UK-based Ashmore Investment Management Ltd, that manages nearly $55 billion in assets across markets, tells Puneet Wadhwa, he's bullish about FII inflows into India.
The Reserve Bank of India maintained a status quo in its policy review.
How many rate cuts do you expect from the central bank going ahead?
Low inflation justifies at least a couple of cuts this year.
Fiscal conservatism reduces the risks associated with cutting. The rupee should receive support from a weaker US dollar over the course of 2017.
What are the likely triggers for the markets from here on for the next six to 12 months?
I like cyclicals and banks.
I think the economy will pull back from demonetisation and that the global environment will improve for EM (emerging market) countries.
The latter will help investment and while banks gain from greater formalisation of the economy.
How important is the outcome of the state assembly elections for the continuity and pace of reforms?
The market is not paying too much attention, which is always dangerous.
Key reforms have been passed already and the government is not looking likely to want to jeopardise the recovery by engaging in irresponsible macroeconomic policies.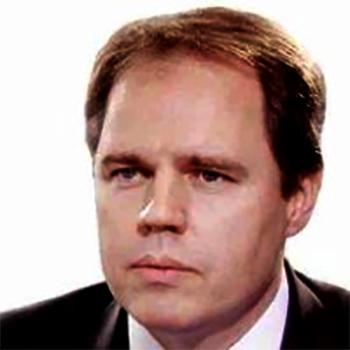 IMAGE: Jan Dehn, head of research, Ashmore Investment Management Ltd.
What are your estimates for corporate earnings for FY18 and FY19? Have you lowered estimates post demonetisation?
Demonetisation is a temporary setback that creates more upside going forward.
I think it is in the price and that estimates will have to be revised higher over the next year or two.
What is your reading of the first few weeks of Donald Trump's presidency?
Does it have the potential to disrupt the global financial markets?
What about India?
Lots of talk and threats, but very little to show for it.
The key issue is not Trump per se, but whether he executes border adjustment.
If he does not, or if the adjustment is smaller than expected, then the US government will not be able to finance a big tax cut.
The result will be slower growth, lower inflation, fewer rates hikes and a weaker dollar.
Indeed, a weak dollar policy then becomes the best way for the US to grow.
A weak dollar means more capital flows to (emerging markets).
India will benefit, but is, in any case, relatively protected.
How the FII flows are likely to shape up over the next six to 12 months for the emerging markets?
Very positively.
A number of measure in the Budget were designed specifically to attract more foreign direct investment.
We would like to see more effort to bring in portfolio flows as well, however.
The global backdrop is turning more positive for emerging markets.
Developed markets have benefitted from quantitative easing and the perception that there is no inflation risk at all.
Quantitative easing is now being replaced by fiscal spending -- increased supply of bonds -- while inflation pressures are slowly becoming felt.
This hurts fixed income in developed economies and should lead to more allocation to EM in search of better value.
What is your interpretation and key takeaways from the Budget proposals?
The Budget was a triumph. It was overall well received.
A few points are worth highlighting:
First, the fiscal math adds up with significant credibility around the 3.2 per cent fiscal deficit target.
The market is also buzzing about possible negatives that didn't happen -- capital gains tax imposition on equities or term being raised from one year to two/three years, estate tax or inheritance tax).
The focus on tax compliance and incentives for small income earners and businesses to file returns is clearly a sentiment positive.
Overall, I am positively surprised. The Budget was prudent.
The Budget targets are achievable, but they require continued discipline and that the government sticks with the efforts to cut red tape and make business in India more efficient.