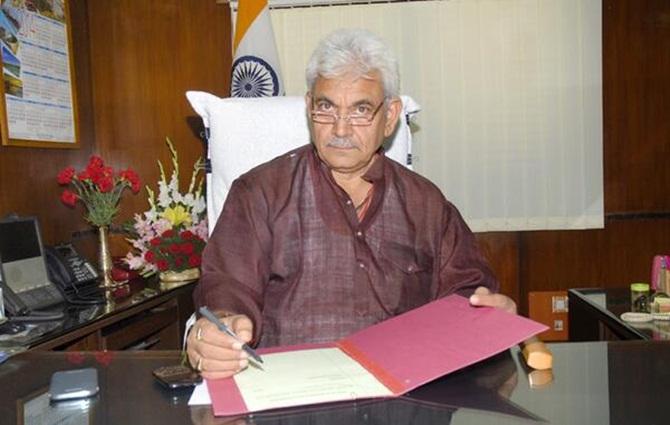 We support healthy competition among telcos, says Telecom Minister Manoj Sinha.
Though a large chunk of spectrum remained unsold in the recent auctions, Telecom Minister Manoj Sinha tells Kiran Rathee there's no reason for a review of the process.
On the entry of Reliance Jio, the minister said it would mean healthy competition and better services in the sector. Edited excerpts:
Do you believe telecom sector is heading towards stability and why?
Yes, it is the transparent policies of the government in allocation of resources, adopting policies for ease of doing business, encouraging domestic and foreign investment, which have led to an era of stability. All that is setting the stage for a sustainable growth path.
While the sector saw a revolution between 2000 and 2003, when mobile services were on a growth trajectory, data services are now following a similar path.
A large quantum of spectrum remained unsold in the recent auctions. Isn't there a need to take a fresh look at the process?
I don't think that there is a need to have a fresh look at the process of auctioning of spectrum. We had a successful auction recently. Trading and sharing of spectrum also allow operators to acquire or add spectrum according to their commercial decisions. Trading also provides an exit route to an operator, which is not able to continue in the sector .
The auction did not get the desired proceeds from telcos. Will DoT be able to meet the revenue target of about Rs 98,000 crore in the current financial year?
The highest-ever sale of spectrum with a total of 964.80 MHz across bands took place recently. This exceeded 928.55 MHz sold during the last four auctions in 2012, 2013, 2014 and 2015 put together. We also managed to get the highest ever upfront revenue (Rs 32,000 crore).
In addition, the government will get about Rs 4,800 crore as service tax on spectrum (introduced from this year). The revenue target is Rs 70,000 crore, which the department is confident of achieving, although the Budget documents mention a figure of Rs 98,000 crore.
The premium 700-MHz band did not draw a single bid. Will there be a re-auction of the airwaves after price reduction?
The government will take a decision about the next auction in due course.
The government has changed the upfront payment for above 1-GHz airwaves to 50 per cent. Do you think it was one of the reasons why operators did not bid aggressively?
I don't think that increase in the upfront payment for above 1-GHz had any effect on the bidding behaviour. You will note that 175 MHz of spectrum out of 222 MHz in 1,800-MHz band, all 320 MHz spectrum in 2300-MHz band and 370 MHz out of 600 MHz in 2500-MHz band was sold in this auction apart from 85 MHz out of 360 MHz in 2100-MHz band. This proves that there is no change in the bidding behaviour for above 1-GHz band.
With the launch of Jio, the fight in the sector has turned murkier. Will the government intervene?
The government supports healthy competition among various service providers for betterment of customers in terms of quality of service and tariffs. The department will intervene at an appropriate time.
Moving on to the area of virtual communication, do you think there is a need to strengthen security in the system to insulate ourselves from the possibility of cyber wars?
With growth in telecom and its applications like machine-to-machine communication, security of communication devices is a major concern and DoT is keeping an eye on these concerns. The department issues guidelines from time to time to make the communication devices secure from external threats.