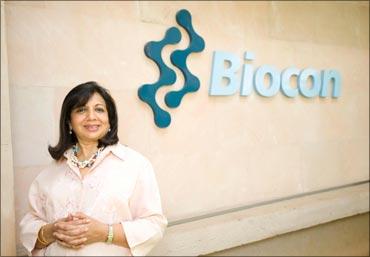 After serving on its board for several years, Biocon chairperson and managing director Kiran Mazumdar-Shaw was appointed the first woman chairperson of the Indian Institute of Management-Bangalore in February.

She will first complete the remainder of the term of her predecessor, Reliance Industries Chairman Mukesh Ambani, who stepped down before end of his second five-year term.

In an interview with Business Standard, Mazumdar-Shaw spells out her plans for the institution over coming years.

Edited excerpts

What is your vision for IIM-B?

I have been with the institution for a long time, so I have been part of shaping of the vision for IIM-B. My question has always been how we could differentiate ourselves.

When I look around, I feel the reason why we don't make it to the top tier of global universities is because we don't have enough presence in the research domain.

Will you channel your energies towards that?

We have started looking at that very seriously and I think it is paying us the results we expect.

Today, ours is the only IIM that is part of the FT global rankings.

The reason why we feature there is our research component. So, we're going to start paying a lot of attention to making sure we are recognised as doing good and serious research.

Are there any other aspects you will be looking at?

We have also focused on a number of very important initiatives -- being Mooc (massive open online course) and our public policy programmes. We have contributed a lot in terms of public policy, where many of our professors
have played a very big role.
I think this is a very important point and the starting point for India to get better governance -- asking how we get better policy makers and better policies.
One of the biggest problems today is that there is too much ambiguity.
If you have clear rules and policies, I think this country can be shaped in a much better way.
Is there any particular strength that you would leverage by the virtue of being in Bengaluru?
We are focusing on public policy and research.
When I come in the fray, I want to focus on start-ups -- On how to run good modules for taking ideas into the market.
Since Bengaluru is the start-up capital, I think this would be a very good place for that kind of management programme.
A lot of start-ups are very good at ideating but they are not good at taking those ideas to the market.
That's one area I want to focus on. W will come out with a number of programmes on that.
Another missing component I feel -- for all B-schools in India -- is that we are not collaborating enough.
I think we need strong global research partnerships. If you want to be a globally recognised B-school, you must be present at a lot of international dicussion forums, conferences, etc.
Is there a plan to connect in a better way with your Alumni?
I want to start the concept of leveraging our alumni all over the world as I feel we are not leveraging them enough.
I want more engagement with the alumni on other forums, besides funding, as their engagement, advice and their inputs will be far more valuable and useful in furthering our international stature.
Harvard and Stanford and Wharton already have these very focused programmes, and we also need to do something similar?