Bindra, Sodhi thrilled over Narang's bronze at London
Harish Kotian
in London
After two lackluster days at the Olympic Games in London, Gagan Narang finally lifted the gloom off the Indian contingent with a bronze medal in shooting.
Narang won his first-ever medal at the Olympics and India's first in London, when he finished third in the 10 metres Air Rifle event, on Monday.
Fellow shooter Ronjan Sodhi, who is himself tipped as a medal contender, said Narang's feat has inspired the entire Indian shooting camp.
"It has given the Indian shooting team the extra lift. All of them are excited and everyone is looking forward to doing well at their events. It is a great lift not only for the shooters but for the entire Indian contingent in London. The mood is quite upbeat and everybody is quite excited," Sodhi told Rediff.com.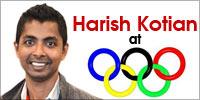 Sodhi will spearhead India's hopes of another medal in the sport when he competes in the Double Trap event.
He also said they were confident of a medal in the 10metres Air Rifle event because they had two world class shooters competing – Abhinav Bindra and Narang.
"And this was expected because we had Abhinav and Gagan competing."
Image:
Ronjan Sodhi
Photographs:
Harish Kotian / Rediff.com
'I had predicted that Narang would win a medal at the Olympics'
Meanwhile, Bindra struggled to get going and did not qualify for the final of the event, eventually failing to defend his Olympic gold which he won four years ago in Beijing.
But despite the disappointment he was thrilled for his compatriot and good friend Narang, who made up for the modest showing by Indian athletes on the first two days of the London Olympics.
"I am very, very happy for him. I had predicted this a few years ago that he would go all the way and I am happy that he was won an Olympic medal. It is fantastic!" he said.
Bindra was quite eager to watch the final but revealed he was not allowed in the arena because all the seats were taken up by the fans.
"Unfortunately I was not allowed into the arena to watch the final because the seats were full."
Bindra said the level of competition among the top shooters is so close that winning even a bronze medal is a big achievement.
"It was a fantastic show, a great performance and I congratulate him on this achievement. Shooting a score of 598 in the Olympics is brilliant. To win a medal at the Olympics is a great achievement and the colour does not matter," he said.
Image:
Abhinav Bindra
Photographs:
Harish Kotian / Rediff.com