'Anybody can file a defamation case against anybody to harass them.'
'There is no criminal complaint against me in any police station. There is no FIR and no chargesheet.'
An angry Satyanarayana Shimoga questions why he has been denied the Dronacharya award. A Ganesh Nadar reports.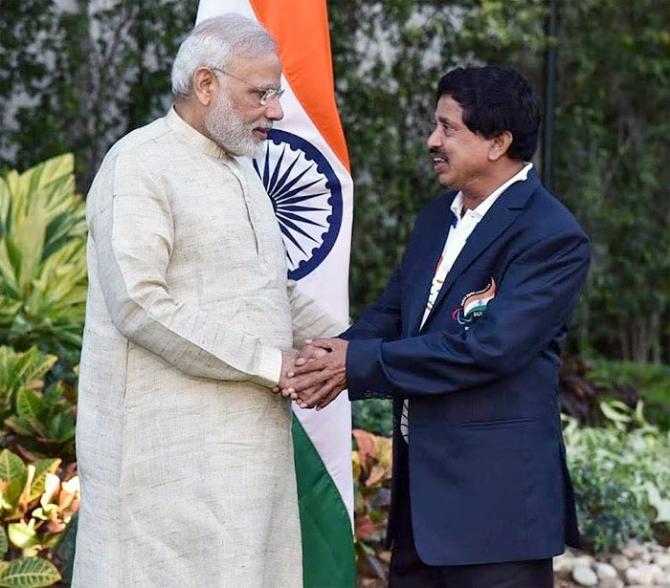 IMAGE: Satyanarayana Shimoga with Prime Minister Narendra Modi. Photograph: Kind courtesy Satyanarayana Shimoga/Facebook
Twenty-two-year-old Mariyappan Thangavelu created history by winning a gold medal in the men's high jump T-42 event at the Rio Paralympics last year.
Thangavelu made a leap of 1.89 metres to pluck the gold, thereby putting his village, Periyavadagampatti in Tamil Nadu's Salem district, on the global map.
Satyanarayana Shimoga, who is Mariyappan's coach, trains several other athletes as well. Recognising his contribution, he was listed for the Dronacharya awards this year.
Later, citing a criminal defamation case against him in 2015, Shimoga's name was removed from the list.
Shimoga has since written to the committee that decides the award to give him a chance to explain his side of the story.
Mariyappan, another athlete H N Girisha and other PCI members have also requested the concerned authorities to give him a hearing.
Shimoga is yet to receive a response.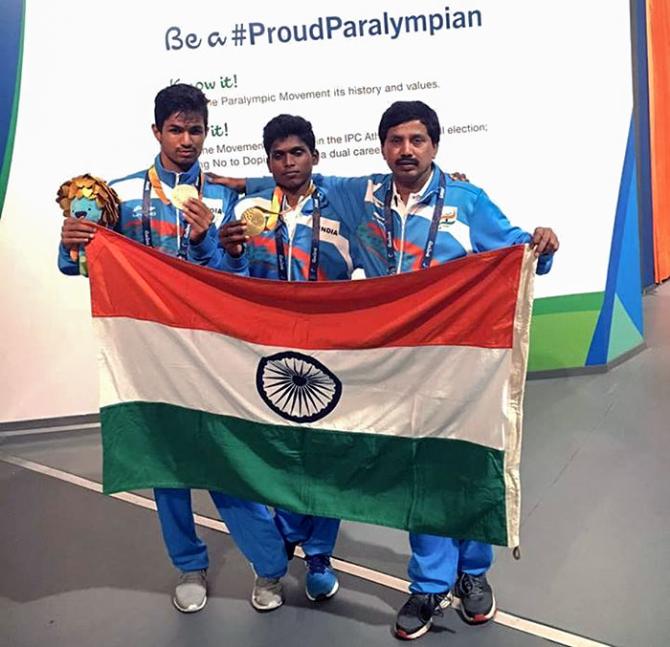 IMAGE: Varun Bhati, Mariyappan Thangavelu and Satyanarayana Shimoga at the Rio Olympics. Photograph: Kind courtesy Satyanarayana Shimoga/Facebook
Talking to Rediff.com, he said, "Back in 2015, Rajesh Tomar, the former chief of the Paralympic Committee of India, filed a complaint against Chandrasekhar and five others, alleging defamation under section 500/501 of the Indian Penal Code.
"Tomar, who was ousted from the PCI due to misappropriation of funds, filed the case to exact revenge. I had supported the faction which brought him down, hence my name got involved."
"The defamation case was filed in a court in Delhi. I am not the first respondent. The case is against Chandrasekhar and others. I am one of the others.
"There is no criminal complaint against me in any police station. There is no FIR and no chargesheet.
"It is a case filed to harass me.
"I live in Bengaluru and the case has been filed in Delhi. Every time there is a date, I have to travel there.
"The next date is on October 26. I am going to tell the court that by delaying this case I have been denied the Dronacharya Award, so they should finish the case at the earliest."
He further emphasised, "It is a bailable offence. I have not been arrested. I don't know how they can deny such an important award for such a frivolous reason.
"Anybody can file a defamation case against anybody to harass them. You cannot use this as a reason to deny someone a well-deserved award."
Shimoga, a Sports Authority of India sponsored athlete, was the national champion in the mile race and had won the gold medal in the nationals in 1985 and 1987.
He is employed by the Indian Railways under the sports quota.