IMAGE: Spain's Rafael Nadal dries himself during a break in his men's singles match against Mikhail Kukushkin of Kazakhstan at the Wimbledon Tennis Championships, in London, on June 28, 2014. Suzanne Plunkett/Reuters.
Wimbledon towels are iconic 'must have' souvenirs of the grass court Grand Slam event.
But did you know they are made in India?
Welspun India Ltd bought British towel manufacturer Christy in 2006. Since then they have been manufacturing all the towels for the tournament at their facility in Vapi, Gujarat.
These bathing towels are highly-prized and sell for £30 each.
Their production begins almost 18 months in advance, with the 2017 designs already underway.
Men's towels are in the classic green and purple with gold lettering; they have become iconic in status and much revered by players and fans.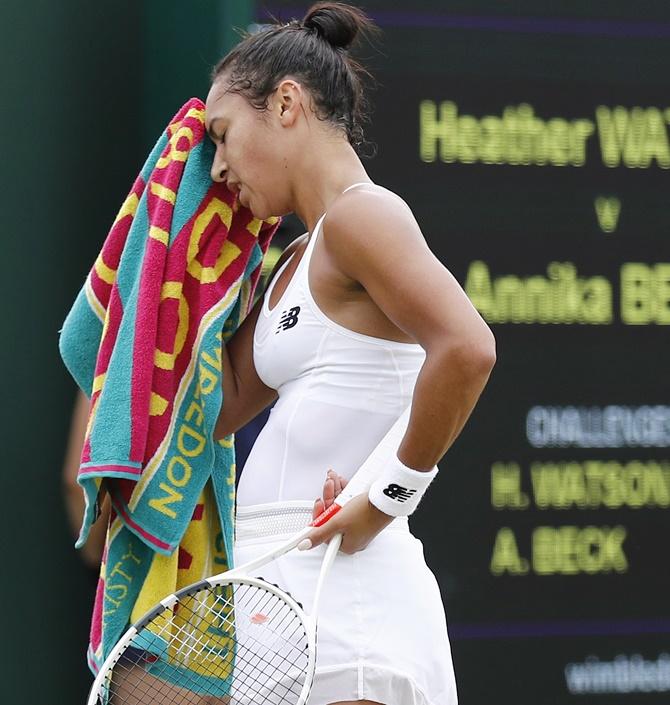 IMAGE: Great Britain's Heather Watson uses the towel during a match at the ongoing Championships. Photograph: Stefan Wermuth/Reuters.
Taking Wimbledon towels for friends and family is something of a tradition among players.
Players from Novak Djokovic to Roger Federer are known for sneaking extra towels to give to friends back home.
Djokovic admitted to pretending to "sweat profusely" so he can take a few home.
'It makes a lot to people who are close to me back in my country happy,' he said.
'I kind of plan in advance space in half of a bag or an entire new bag for the towels I take from Wimbledon,' the world No 1 had told the Sunday Times.
'Actually I just put an extra towel in the bag. I'm sure the All England Club will forgive me for that extra towel per match.'
It is learned that the tournament only gets back a quarter of the 6,000 towels that give out each year.
Players like Venus Williams have admitted owning towels dating back as far as 1997.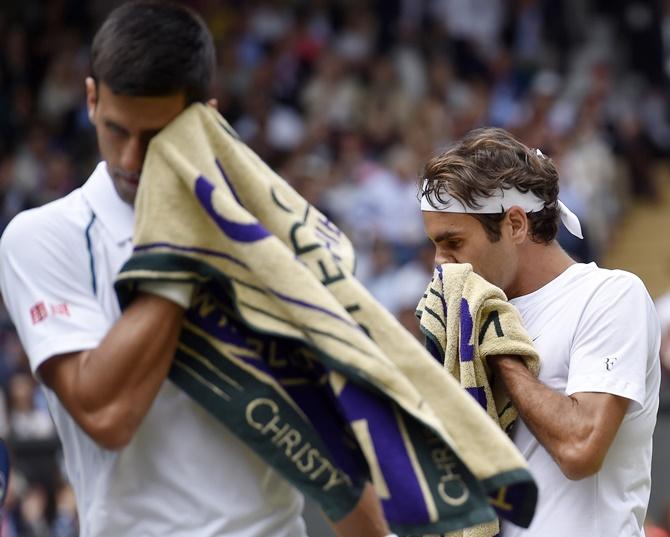 IMAGE: Novak Djokovic of Serbia and Roger Federer of Switzerland wipe their faces during at the Wimbledon Tennis Championships in 2015. Photograph: Toby Melville/Reuters.
Andy Murray also revealed that his wife asks for a towel from every tournament he plays.
Said the British tennis ace: 'I got one for her in the first round. Gave one to my physio. I normally take one each day and give it to someone on my team. I don't keep them. But my wife likes them. I think they're quite good quality towels.'
Tennis star Federer also gifts towels during Wimbledon to his friends as mementos.
Ladies' towels reflect the hottest summer trends, combining vibrant jade and pink shades with a yellow highlight.
Canada's Eugenie Bouchard questioned Wimbledon's fancy towel used during the matches on court.
'There are strict all white rules for our outfits but then the towels are the craziest colours… Oh @wimbledon,' she wrote on Twitter.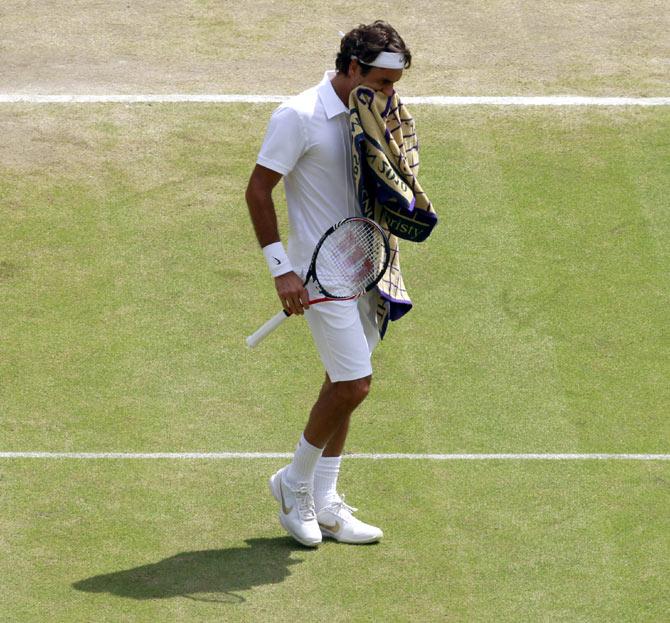 IMAGE: Switzerland's Roger Federer wipes his face during his match against Tomas Berdych of the Czech Republic at the 2010 Wimbledon Tennis Championships. Stefan Wermuth /Reuters.
America's Madison Keys said requests can be maddening for the pink (for women) towels.
'I'm like, I can't pack 75 towels and take them home. It's not gonna happen. You can pick one tournament. I'll bring you one towel.'
Former women's tennis world number one Tracy Austin has admitted she is "an offender" when it comes to 'collecting' towels from Wimbledon.
Tracy said: 'Novak Djokovic has talked about leaving half a suitcase for the towels that he takes, and he has won over $100 million! It's such a commodity in the sport, you need an authentic Wimbledon towel.'
Welspun India says the towels represent the passion of tennis.
'The Wimbledon collection is not just for tennis players and tennis lovers who bow down to the finesse of the sport, but also for those who have a passion for the finer things in life. Within the Wimbledon Collection, you have the best choices of Wimbledon bathing towels that are loved by the world's tennis pros. All our bathing towels in the Wimbledon Collection are crafted to replicate the towels used by players at the Wimbledon championship.
'These Wimbledon towels have a soft and luxurious feel. When you go for a shower after a hard day at office or a tiring game on the court, there is nothing like drying yourself with a Wimbledon towel. 100% cotton, this is a bathing towel that effortlessly absorbs the moisture from your skin, leaving you dry and fresh.'