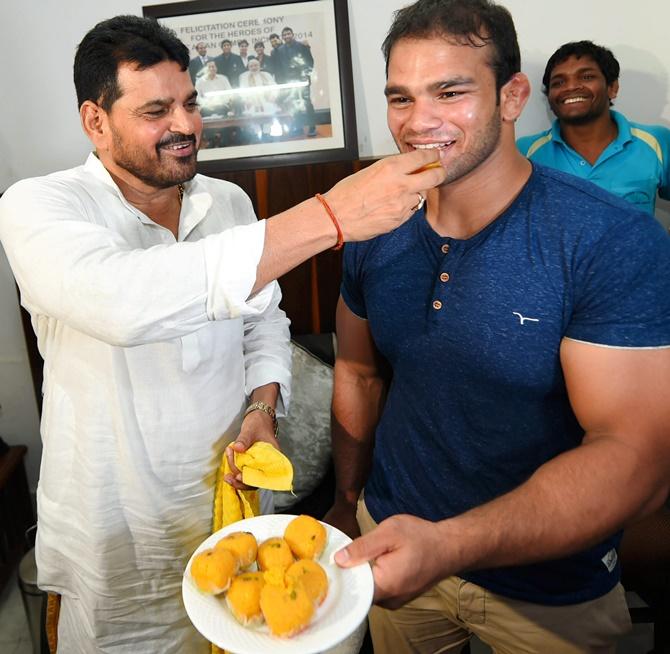 IMAGE: Wrestler Narsingh Yadav celebrates with Wrestling Federation of India president Brij Bhushan Charan Singh. Photograph: PTI.
Wrestler Narsingh Yadav's chances of participating in the Rio Games have been boosted after the United World Wrestling (UWW), gave him a clean chit.
The Wrestling Federation of India president Brij Bhushan Charan Singh confirmed UWW's decision.
"After Narsingh was given a clean chit by NADA, we immediately wrote a letter to the world body to reconsider his name in 74kg category. Today I am really delighted to announce that UWW has reverted back saying that Narsingh will be allowed to participate in the Olympics," WFI president Singh said.
"Now they just need a confirmation letter from us and we have already sent it. So, there should not be any problem as far as the world body is concerned about Narsingh's participation," he added.
After studying the case, WADA can appeal against a decision of Anti-Doping Disciplinary Panel or Appeals Panel of any of its member countries to the Court of Arbitration for Sports (CAS) within 21 days.
If WADA appeals against the decision of the disciplinary panel at the ad hoc division of the CAS, specifically constituted to render decisions quickly during the Olympics, Narsingh may have to wait some more days to know his fate regarding his participation in the Rio Games.
Earlier, Narsingh was exonerated of all the doping charges by the National Anti-Doping Agency (NADA) — but that was not the silver lining for the wrestler. The Indian Olympic Association (IOA) on Wednesday supported the wrestler's advent into Rio Olympics.
The WFI had sent wrestler Praveen Rana's name as backup to make sure India held its quota in the 74kg freestyle category. However, Brij Bhushan had told informed that he had contacted UWW on June 25 and requested them to review Narsingh's entry.
However, the NADA clearing is only the first hurdle for Narsingh; the clean chit has to be approved by the International Olympic Committeee (IOC) and the World Anti-Doping Agency (WADA).
After NADA's nod to Narsingh, the WFI is confident that the three international bodies will not object to Narsingh's entry into the Rio Olympics which is soon to take place.
WADA Communications Coordinator Maggie Durand said that it has requested the NADA to send the case file so that it can review it.