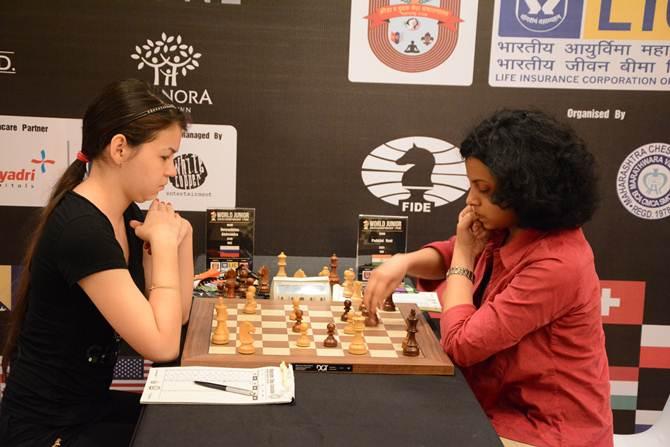 Russia's Goryachkina Aleksandra (left) and India's Padmini Rout during their eighth round match in the World Junior Chess Championships
Padmini Rout's unbeaten run was halted by top seed Aleksandra Goryachkina in the eighth round of the LIC World Junior Chess Championships, at the Hotel Hyatt, in Pune, on Tuesday.
After a day's rest, the girls' section was dominated by the higher-rated Russians in the fray, with Daria Pustovoitova defeating Anna Iwanow of Poland.
Both the Russian girls and Anna Iwanow of Peru jointly lead the girls' section in the 77-player event with 6.5 points each.
Sarasadat Khademalsharieh trails the leaders by half a point while Padmini is on 5.5 points.
Collectively it was not a good outing for Indians playing on the top boards, as Ivana Maria Furtado also ended up on the losing side, beaten by third seed Sarasadat Khademalsharieh.
Rucha Pujari, Shweta Gole. Sakshi Chitalange, Sahej Grover, Shardul Gagare were other prominent Indian losers.
In the Open section, sole leader Jorge Cori was upset by Karen Grigoryan of Armenia while Lu Shanglei of China defeated higher-rated Benjamin Bok of the Netherlands. Both winners jointly lead the 110-player field with 6.5 points each.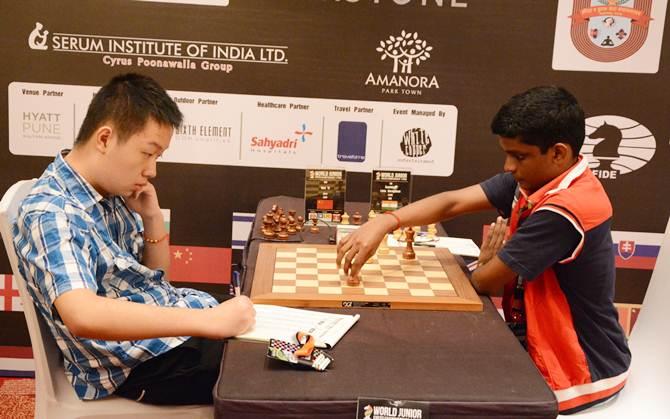 China's Wei Yi (left) and India's Sunilduth Lyna Narayanan during their eighth round match in the World Junior Chess Championships
S Narayanan, needing a draw to make a GM norm, was struggling in an inferior position to try and salvage the half point against Chinese GM Wei Yi at the time of going to press.
Padmini mishandled the Stonewall variation of the Dutch Defence against Goryachkina and the Russian's rooks, queen and knight were soon threatening a major offensive on the King-side, right from the early middle-game stages.
The Indian's queen and rook were virtually out of play stranded on the queenside and her castle was broken. A wrong central pawn push on the 25th turn by Padmini suddenly opened up the gates towards her King and Goryachkina crashed through to pocket the point after 34 moves.
Five more rounds are remaining in this 13-round event , sponsored by LIC and Government of Maharashtra and Amanora, ONGC, Jain Irrigation and Everstone.
Vidit Gujrathi was one of the early finishers, scoring a rapid 34 move victory over Matej Blazeka of Croatia.
Important results of Open section (Indians unless specified): Karen Grigoryan (Arm)-6.5 bt Jorge Cori (Per)-5.5; Wei Yi (Chn) S L Narayanan; Lu Shanglei (Chn)-6.5 bt Benjamin Bok (Ned)-5.5; Quinten Ducarmon (Ned)-5 lost to Vladimir Fedoseev (Rus)-6; Aravindh Chithambaram-5.5 drew Grigoriy Oparin (Rus)-5.5; Mikhail Antipov (Rus)-6 bt Anurag Mhamal-5; Diptayan Ghosh Tadeas Kriebel (Cze); Ulvi Bajarani (Aze) Bai Jinshi (Chn); Aleksander Indjic (Srb)-5 drew Linus Johanson (Swe)-5.5 ; VladislavKovalev (Blr) Ben Artzi Ido (Isr); Shardul Gagare-4.5 lost to Kamil Dragun (Pol)-5.5; Balazs Csonka (Hun)-5 drew Ankit Rajpara-5; Prasanna Raghurama Prince Bajaj; Rajdeep Sarkar Sayantan Das; N Niranjan N Srinath; Vidit Santosh Gujrathi -5 bt Matej Blazeka (Cro)-4.
Girls: Aleksandra Goryachkina (Rus)-6.5 bt Padmini Rout-5.5 ; Daria Pustovoitova (Rus)-6.5 bt Anna Iwanow (Pol)-5.5; Marina Brunello (Ita)-5 lost to Ann Chumpitaz (Per)-5.5; Sarasadat Khademalsharieh (Iri)- 6 bt Ivana Maria Furtado-5 ; Ioana Gelip (Rou) P V Nandhidhaa ; Nguyen Thi Mai Hung (Vie) Srija Seshadri ; Sabina Ibrahimova (Aze)-5.5 bt Rucha Pujari-4.5 ; Irina Petrukhina (Rus) Varshini V; Mae Frayna Janelle (Phi)-5.5 bt ShwetaGole-4.5; Meri Arabidze (Geo)-5 bt Sakshi Chitlange-5 ; Pratyusha Bodda-5 bt Mila Zarkovic (Cro)-4
The Moves
Goryachkina,Aleksandra (2430) - Padmini,Rout (2331) [D31]
WJCC U20 Girls Pune (8), 14.10.2014
1.d4 d5 2.c4 c6 3.Nc3 e6 4.Nf3 f5 5.Bf4 Nf6 6.e3 Bd6 7.Bd3 0–0 8.Qc2 Ne4 9.0–0 Be7 10.h3 Nd7 11.Rac1 g5 12.Bh2 h5 13.Ne2 Bd6 14.Bxe4 Bxh2+ 15.Nxh2 dxe4 16.g4 hxg4 17.hxg4 Nf6 18.f3 Bd7 19.Nc3 Qc7 20.Qg2 exf3 21.Rxf3 Rf7 22.Rcf1 Rg7 23.e4 Nxe4 24.Nxe4 fxe4 25.Rf6 e5 26.Qh3 Rh7 27.Rg6+ Kh8 28.Rh6 Be6 29.dxe5 Bg8 30.e6 Rxh6 31.Qxh6+ Qh7 32.Qxg5 Re8 33.Qe5+ Qg7 34.Qh5+
1–0