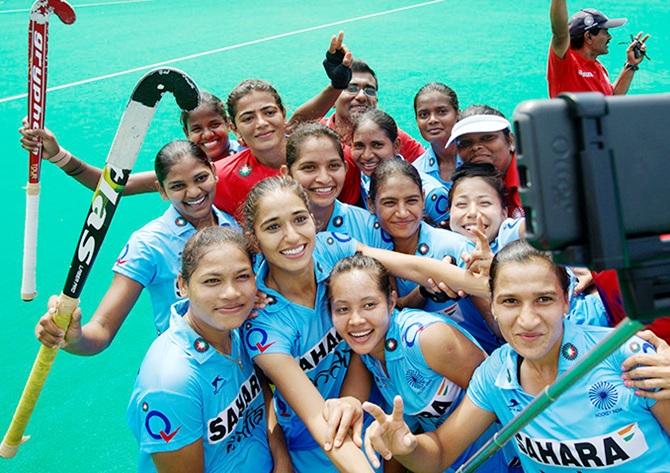 Indian women hockey players celebrate after winning against Japan. Photograph: FIH
Indian women's hockey team qualified for the Rio Olympic Games with a win over Japan on Saturday in the fifth-place playoff of the Hockey World League Semifinals. Their captain Ritu Rani expressed hope that an Olympic appearance would help lift women's hockey in our country.
India's 1-0 victory over Japan in the play-off for the fifth spot got them the ticket to the Olympics for the first time (after a gap of 36 years) since the women's team's lone appearance at Moscow in 1980.
"This is a big moment for us all, we have been working hard for it," said Ritu, eyes still moist with overwhelming emotions.
"Some of us have been toiling hard for years while those coming from the junior ranks have a long way to go. I hope returning to the Olympic Games will help in lifting the women's hockey in our country," she added.
Team manager C R Kumar, who continues to be a part of the team's coaching staff while many foreign coaches came and left, said the girls today placed one foot on the flight to Rio.
"This is the best position we could have achieved after missing the semis of this tournament," he said.