No official complaints about high winds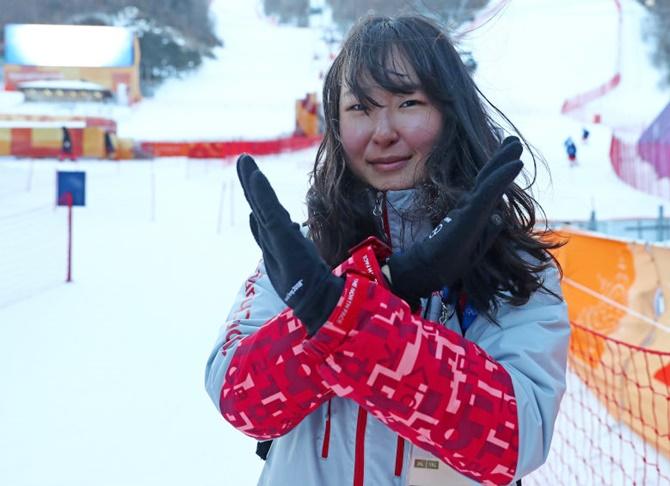 IMAGE: A volunteer poses for a photo after the Ladies' Giant Slalom was postponed due to strong winds. Photograph: Alexander Hassenstein/Getty Images
The International Ski Federation (FIS) has refuted claims that athletes' complaints had been ignored in the build-up to the controversial women's snowboard slopestyle Olympic final on Monday.
Several athletes, including Austrian Anna Gasser and Norway's Silje Norendal, complained after the final that the extreme wind and hard snow made conditions too dangerous to compete and said they had requested the event be postponed.
The start of the final was delayed by more than an hour because of the wind, but after qualification was cancelled entirely on Sunday due to the weather, organisers decided it could go ahead.
Only five of the 25 riders competing made it down the first run without falling in the difficult conditions and none of them completed two error-free runs.
American Jamie Anderson coped best and retained her title with a score of 83.00 points at the Phoenix Snow Park.
FIS communications manger Jenny Wiedeke said on Tuesday that only one team had made a complaint before the final.
"FIS has a very clear line of communication with its athletes and coaches," she told Reuters.
"We do have connection coaches and athlete representatives for our events and especially in snowboard freestyle because it's a smaller field the athletes have much more direct contact with our directors.
"It wasn't a protest which one team issued, they just went to our race director Roby (Moresi) and just voiced their concerns about the wind conditions, so there was no formal protest."
The weather was much improved at the venue on Tuesday, with the women's snowboard halfpipe final going ahead without any problems.
Japan short track skater sent home from Games for failed test
Japanese short track speed skater Kei Saito failed an out-of-competition doping test on the day of his arrival in Pyeongchang and has been expelled from the Winter Olympics, Japan team officials said on Tuesday.
Saito, a reserve athlete who had not yet competed in South Korea, was provisionally suspended after testing positive for masking agent acetalozamide and a final ruling would be issued after the Games, the Court of Arbitration for Sport said.
Masking agents are often used to cover up banned performance-enhancing substances.
This is the first doping case during the testing period of the Olympics in South Korea and comes as Tokyo prepares to host the Summer Games in 2020.
Team Japan officials said Saito was tested hours after arriving in the athletes' village on Feb 4.
The athlete said he was stunned by the finding.
"I am shocked by this as I have never tried to commit doping," Saito said in a statement.
"I have been trained in anti-doping. I have never taken a steroid so there is no need for me to mask something, and I never had to drop weight by using this medicine.
"So I have no motivation to use this. I want to prove my innocence but I do not want to burden my team so I accepted this decision," he said.
Team chief Yasuo Saito said the athlete had also been tested at a training camp on Jan. 29 on the order of the International Skating Union (ISU) and his test was negative.
'Olympic Destroyer' malware targeted Pyeongchang Games
Several U.S. cyber security firms said on Monday that they had uncovered a computer virus dubbed "Olympic Destroyer" that was likely used in an attack on Friday's opening ceremony of the Pyeongchang Winter Games.
Games Organizers confirmed the attack on Sunday, saying that it affected internet and television services but did not compromise critical operations. Organizers did not say who was behind the attack or provide detailed discussion of the malware, though a spokesman said that all issues had been resolved as of Saturday.
Researchers with cyber security firms Cisco Systems Inc, CrowdStrike and FireEye Inc said in blog posts and statements to Reuters on Monday that they had analysed computer code they believed was used in Friday's attack.
All three security companies said the Olympic Destroyer malware was designed to knock computers offline by deleting critical system files, which would render the machines useless.
The three firms said they did not know who was behind the attack.