Wimbledon champion Serena Williams advanced to the Stanford Classic final after she crushed Sorana Cirstea 6-1, 6-2 on Saturday and will meet fellow American Coco Vandeweghe who made her first WTA final after she overpowered Yanina Wickmayer 6-2, 3-6, 6-2.
Williams, who had a superb service game during Wimbledon, struggled against Cirstea but easily controlled the tempo of the match against the Romanian, who had trouble keeping the ball in court and committed 32 unforced errors.
Williams broke Cirstea four times in the match and only faced one break point, which she easily fought off.
She was the steadier and more creative player, wowing the crowd with a couple of sweet lob winners over Cirstea's head.
"I really wasn't happy today but I did what I had to do to win and that's important," said Williams, who was so dissatisfied with her first serve, making just 38 percent, she went out and practiced on it straight after the match.
"I'm just trying to get something, and I feel like I haven't served well all week and 38 percent is outrageous," Williams said while adding she was looking forward to meeting her young compatriot in the final.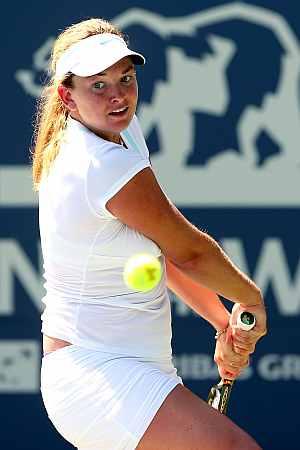 "She's done well and will go out tomorrow and go for the glory," Williams said.
"I don't blame her because I'll do the same thing."
FIRST FINAL
A lucky loser, the 20-year-old Vandeweghe used her massive serve and big ground strokes to upset the fifth seed Wickmayer, nailing 12 aces of her 32 winners overall.
"I'm really excited to be in the final of a WTA event," Vandeweghe said. "Hopefully this is good omen for me for the rest of the summer going into the U.S. Open."
The 6-foot-1 (1.85m) tall Vandeweghe, the daughter of a former Olympic swimmer, came out firing and immediately broke the Belgian with a backhand winner, then broke her again to take a 5-2 lead before she closed out the set with three service winners and a forehand down the line.
Wickmayer rallied in the second set, breaking Vandeweghe to 2-0 when the American erred on a forehand, and then successfully sat on the lead with precise ground strokes.
But Vandeweghe regained her edge in the third set, grabbing a break to 3-1 when Wickmayer double-faulted.
The Belgian held four break points in the next game, but Vandeweghe used her booming serve to get out of trouble, taking care of two of the break points with aces.
"I've worked hard on my serve and it's a big weapon for me," Vandeweghe said. "There are a lot of matches where my serve is going to come through in the clutch.
"Plus the way I'm playing off the ground it puts pressure on my opponent to make her return of serve that much better."
Wickmayer said the American's serve was the key to her win.
"Even when I was there I couldn't do a lot," Wickmayer said.
"She hits pretty hard. Even her second serve bounces high and it's hard to do anything with it. When I had chances on her serve, she just aced it away."
Photograph: Matthew Stockman/Getty Images