'The guys do have that luxury of having the nurseries and stuff at every event, and I think it's time for women to have the same benefit'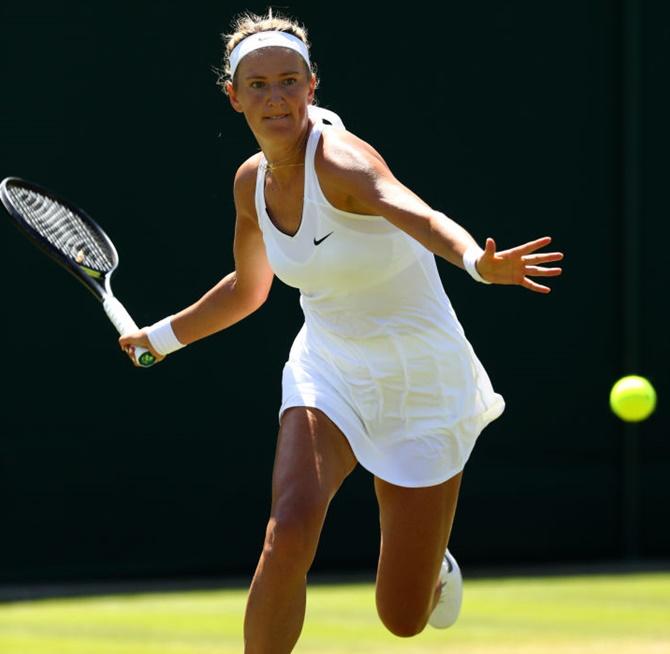 IMAGE: Victoria Azarenka of Belarus plays a forehand during the Ladies Singles second round match against Elena Vesnina of Russia. Photograph: Michael Steele/Getty Images
New mum Victoria Azarenka wants to see more child-friendly tournaments on the WTA Tour, saying not enough is done to help players travelling with young families.
The former world number one returned to action last month after giving birth to son Leo in December and will soon be joined on the Tour by mum-to-be Serena Williams.
"I hope that's the case. I have been already talking about this point to some of the people in the WTA," Azarenka said after reaching the third round at Wimbledon on Wednesday with a straight sets defeat of 15th seed Elena Vesnina.
"From my own power, I'll do anything to make that happen, because I think it's really important."
"The guys do have that luxury of having the nurseries and stuff at every event, and I think it's time for women to have the same benefit. For women, it's more important and harder," added the Belarusian, who faces Britain's Heather Watson next.
Creches are not mandatory facilities on the WTA Tour, although all the grand slam events cater for players travelling with young children and Wimbledon's was upgraded in 2015.
The WTA does provide support for players who want to continue their careers after having children.
"From a health care perspective, the WTA provide via Sport Sciences and Medicine and Athlete Assistance physical and psychological health and wellbeing support and services," it said in a statement.
"This includes attention to the special musculoskeletal, physiological and psychosocial needs of pregnant, post-partum and breastfeeding mothers, including educational information, and specialised women's health physiotherapy and counselling services, if needed."
Judy Murray, mother of world number one Andy, has also thrown her support behind better child facilities.
"It's not every player that has the money to employ an entourage of nannies. The top ones can, but not the next level, so it's very important," she said.