Diego Armando Maradona has been denouncing FIFA for decades
'Maradona has been openly critical of Blatter and also has been enjoying the scandal'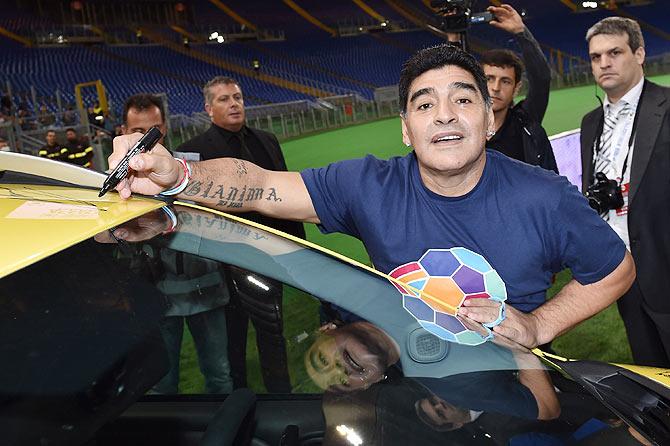 Former Argentina football captain Diego Maradona. Photograph: Tullio M. Puglia/Getty Images
Venezuelan President Nicolas Maduro on Tuesday suggested that Argentine soccer legend Diego Maradona become the next FIFA president, hours after a deepening soccer scandal spurred the resignation of the group's top official.
Who got Sepp Blatter? Who shot him?
Problem solved, say sponsors after Blatter resigns
Blatter stands down as FIFA president
Sepp Blatter stepped down as FIFA president less than a week after charges by US prosecutors linked nine soccer officials and five sports media and promotions executives to more than $150 million in bribes.
"The president of the international football federation should be Diego Armando Maradona or someone like him," said Maduro during his weekly televised address.
"Diego Armando Maradona has been denouncing FIFA for decades, they've threatened him and they've laughed at him."
Maradona, who led Argentina to a 1986 World Cup victory, has said he has been 'enjoying' the scandal.
He has been openly critical of Blatter and in the last elections voiced support for Blatter's rival, Jordanian Prince Ali Bin al-Hussein.
A lifelong supporter of leftist causes, Maradona was a close friend of late socialist leader Hugo Chavez and has maintained warm relations with Maduro who was elected after Chavez's 2013 death from cancer.
One of the FIFA officials arrested during last week's police operation in Switzerland was Rafael Esquivel, who is also head of the Venezuelan Football Federation.
"The state prosecutor's office has ordered a full investigation of the Venezuelan Football Federation," Maduro said. "I, as head of state, support it entirely."
Maduro criticized US authorities for operating beyond their jurisdictions, and suggested the investigation was part of a US plot to scrap World Cup tournaments in ideological allies Russia and Qatar.
"They are getting Blatter out of the way so that they can govern FIFA," he said. "The maneuver is meant to see how they can take the World Cup away from Russia and Qatar or to sabotage them so that they cannot shine."