34 member athletics contingent is in Rio to put up some promising show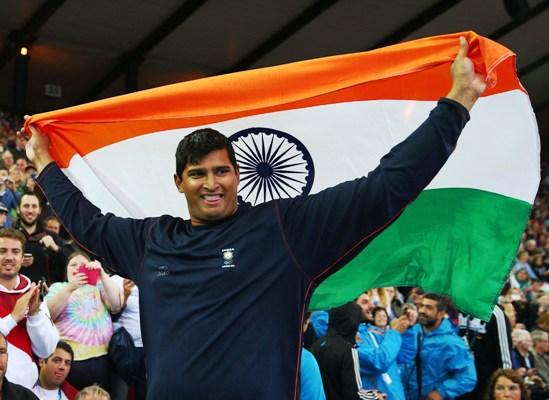 IMAGE: Indian discus thrower Vikas Gowda. Photograph: Getty Images .
For a discipline that has given Indian athletes only the Olympian's tag, the country's track and field participants will begin their campaign in the Rio Olympics on Thursday, with little hope to break the 116-year-old medal jinx.
With the history-chasing Usian Bolt once again set to take centrestage in arguably the most popular Olympic discipline, the Indians are not expected to be a force to reckon with.
India may not have won any medal since Norman Pritchard's 200m silver in the Paris 1900 but the 34-member athletics contingent is in Rio to put up some promising shows by making at least the final, if not getting onto the podium.
Making his fourth successive Olympics appearance, a feat no other Indian athlete has achieved, discus thrower Vikas Gowda will start India's campaign in athletics when he takes the field at the Olympic Stadium in the morning session.
The reigning Commonwealth Games champion had progressed into the final in London 2012 and had finished eighth and the 33-year-old US-based thrower, perhaps in his final Olympics, would look to sign off on a high.
There were some concerns about his shoulder injury as the Mysore-born athlete has been missing all season and it remains to be seen if he is able to better his personal best of 66.28, achieved four years ago.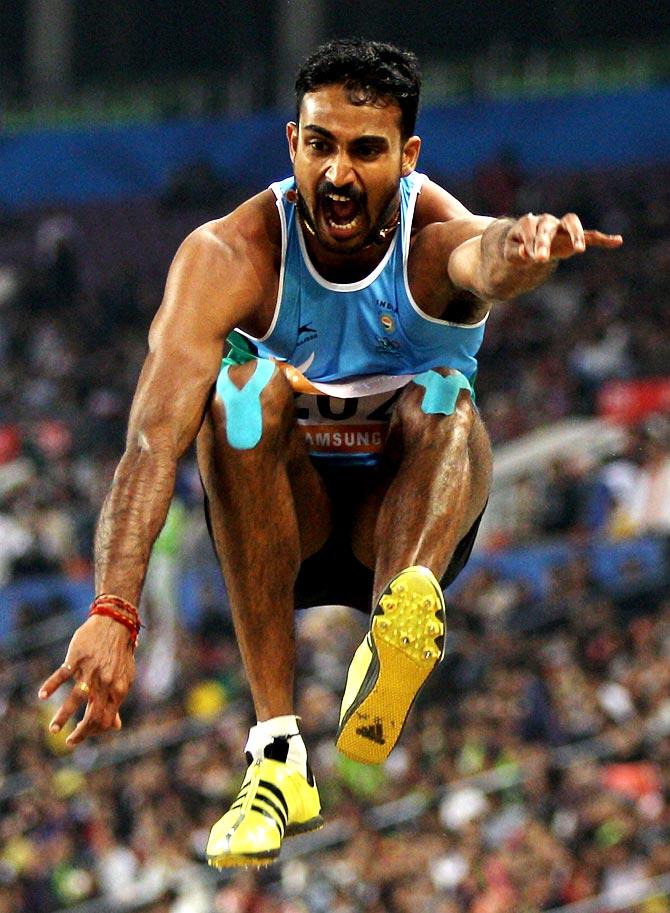 IMAGE: India's Renjith Maheswary. Photograph: Mark Dadswell/Getty Images.
Having produced 17.30m, the third best in the world, at the Indian Grand Prix, Bengaluru exactly two months ago, triple jumper Renjith Maheshwary is expected to share the spotlight.
The Kerala-born jumper was a big flop in Beijing 2008 and London 2012 as he's not able to sustain his effort at the international level and this year it would be a big test for him to make the final.
Having produced 8.19 in Kazakhstan and eclipsing the national record of 8.09 while qualifying for Rio, long jumper Ankit Sharma has improved by leaps and bounds.
"The time has come to do better, I'v worked on my strength and speed which is helping me during the take-off and landing," he said.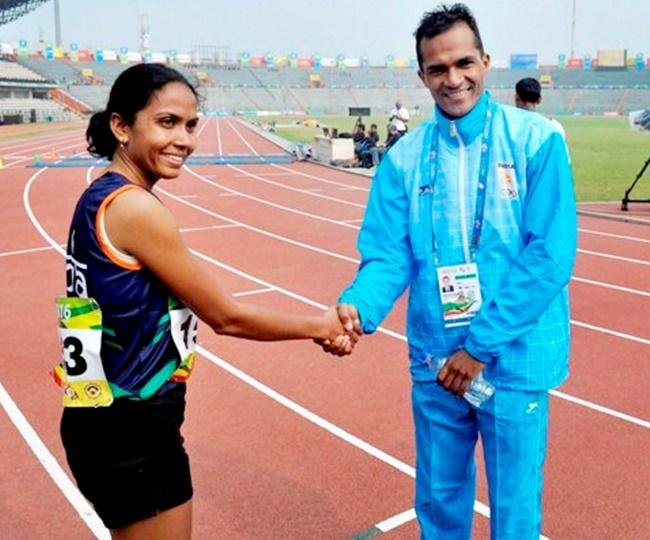 IMAGE: Marathon runners Kavita Raut and Nitendra Singh Rawat of India. Photohraph: PTI .
Having breached the eight-metre mark at the Kerala National Games last year, Sharma, who hails from Pinhat village in Agra, has made rapid progress and will be one of the Indian athletes to watch out for.
Ankit started this year on a good note when he broke a 27-year event record held by Pakistan's Md. Urfan, by registering a leap of 7.89m at the South Asian Games.
Shifting to distance events, Russian coach Nikolai Snesarev's three wards OP Jaisha, Sudha Singh and Lailta Babar would look to make it count.

In steeplechase, Sudha (9:26.55s) and Lalita (9:27.09) are in 17th and 18th place respectively among the qualifiers, led by Ruth Chibet (8:59.97s), and the duo are expected to qualify for the finals.
Jaisha and Kavita Raut will compete in marathon and the target would be to break into two hours and 30 minutes mark.
The Indian 4x400 relay team also holds some promise, particularly the women's quartet - Asian champions and national record holders who are capable of making the last eight.
Coming to road events, India have six race walkers, including three in men's 20km, who are all capable of springing a surprise.
India will also have representation in women's sprint for the first time since 1980 with Odisha's Dutee Chand, who has fought a landmark gender case beore qualifying, being the focus.
"I've fought all odds, the time has come to realise my dream and put up a good show," Dutee said.
India's build-up to the Olympics had started on a unsavoury note when shot putter Inderjeet Singh was found to have tested positive for a banned substance.
In London 2012 India had a few highs with national records from walkers KT Irfan (20km, 10th finish) and Basanta Bahadur Rana (50km, 36th finish), and final spots for throwers Vikas Gowda and Krishna Poonia.
It will be interesting to see whether the contingent are able to improve on their London showing.
The Squad:
Men: Muhammad Anas Yahiya (400m & 4x400m relay), Jinson Johnson (800m), Ankit Sharma (long jump), Renjith Maheswary (triple jump), Vikas Gowda (discus throw), Nitendra Singh Rawat (marathon), Gopi T (marathon), Kheta Ram (marathon), Manish Singh Rawat (20Km Race Walking), Gurpreet Singh (20Km Race Walking), Ganapathi K (20Km Race Walking), Sandeep Kumar (50Km Race Walking), Arokia Rajiv (4x400m relay), Kunhu Muhammed (4x400m relay), A Dharun (4x400m relay), Mohankumar R (4x400m relay), Lalith Mathur (4x400m relay).
Women: Dutee Chand (100m), Srabani Nanda (200m), Nirmala (400m & 4x400m relay), Tintu Luka (800m), Sudha Singh (3000m steeple chase), Lalita Babar (3000m steeple chase), Manpreet Kaur (shot put), Seema Punia (discus throw), OP Jaisha (marathon), Kavita Raut (marathon), Khushbir Kaur (20km Race Walking), Sapna (20km Race Walking), MR Poovamma (4x400m relay), Anilda Thomas (4x400m relay), Jisna Mathew (4x400m relay), Ashwini AC (4x400m relay), Debashree Majumdar (4x400m relay)