For the glamour-smitten boxer, turning pro was the next logical step, writes Aabhas Sharma
Boxer Vijender Singh packs a punch on the ramp. Photographs: Reuben NV/Rediff.com
"Whoever says money isn't important is lying."
Four years ago, boxer Vijender Singh told me this in the confines of The Lalit in Delhi. His origins may have been humble (his father was a driver with Haryana Roadways), but he was perfectly at ease in the five-star hotel.
As Vijender gives up amateur boxing to turn full-time professional, perhaps the words ring truer than ever.
When I ask him if it was money that made him sign up with Queensbury Promotions of the United Kingdom, he plays it down. "Money," he says, "isn't the reason I am turning pro. I make decent amount of money through endorsements, TV, films as well as boxing. It's a challenge and uncharted territory for me and I hope it opens new avenues for Indian boxers."
Vijender has always had immense confidence in himself, and while sceptics insist he has 'turned his back' on the country, he says honestly that he has achieved as much as he could in amateur boxing: bronze in the 2008 Beijing Olympics, bronze in the 2009 World Championships, gold in the 2012 Guangzhou Asian Games, and silver in the 2014 Glasgow Commonwealth Games.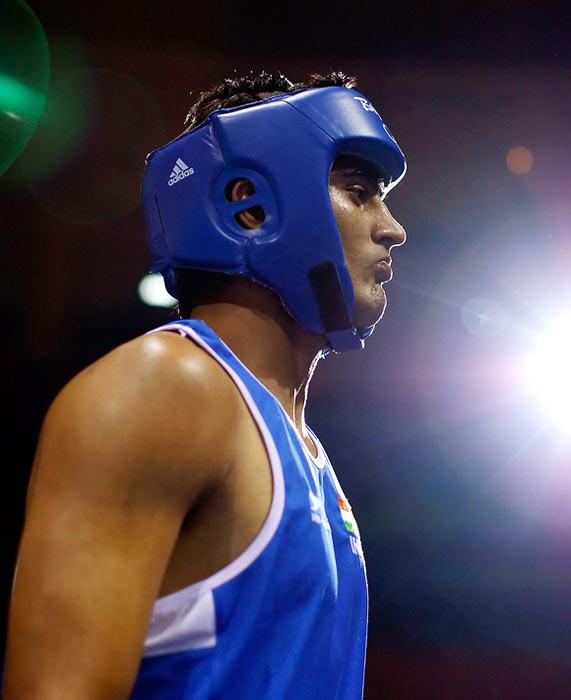 India's Vijender Singh. Photographs: Getty Images
In September 2009, the International Boxing Association ranked Vijender on the top of its list for middle-weight boxers.
More than anything else, it was Vijender who instilled the belief in Indian boxers that they can win at the highest levels.
Vikas Krishan, who is looking to qualify for the Rio Olympics, says that Vijender is "kind of irreplaceable. His bronze medal in Beijing brought focus on Indian boxing and put it on the world map. This country hasn't had a better boxer than him."
Vijender's national coach, Gurbax Singh Sandhu, says that it did come as a surprise that he quit amateur boxing.
"He will be missed as he is a great motivator and has a calming influence on his team mates," says he.
Vijender has always had the traits of a 'cricketing celebrity'. He loves cars, flashlights, fashion -- everything a 'star' craves for. He once said that if cricketers can walk the ramp, why can't he? He rides a Harley Davidson and has never made any bones about being a show-off. He is aware of his chocolate-boy looks. Blows in the ring haven't dented his sharp features.
Little surprise then that he ended up with a role in a Bollywood film, became a judge on reality show MTV Roadies and developed a taste for designer clothes. Vijender has what some may call a 'rock star persona'. Compared with the other Jat sensation, wrestler Sushil Kumar, Vijender has always loved the attention.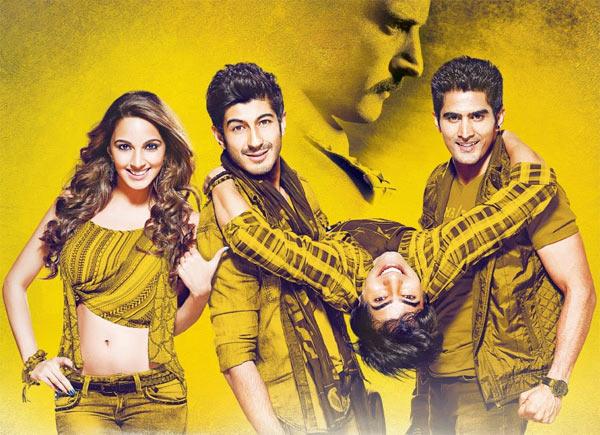 His Bollywood foray was with Fugly, a 2014 film produced by Akshay Kumar in which Vijender danced to tunes composed by Yo Yo Honey Singh. The movie also had Jimmy Shergill along with a few newcomers, and failed to clock in the numbers at the box office. But Vijender's dream of acting in a film was achieved.
He then appeared as a judge on MTV's flagship reality show, Roadies — a show made for people who crave recognition and short-term fame. Vijender was someone who the contestants looked at with awe and he clearly enjoyed doing the show.
"I've always looked for new challenges: TV, films are all new challenges for me and I enjoy doing that," he says.
Then there is the unglamorous part. Vijender found himself in a quandary when his name was linked in a drug scandal in Punjab in 2013. Punjab Police had said that he had bought heroin for personal consumption from a drug dealer on 12 different occasions. His car was found outside the dealer's house in Zirakpur.
But the National Anti-Doping Agency gave him a clean chit after he underwent a series of tests. Critics felt here was a star who threw it all away. Vijender's integrity was questioned but he denied all allegations and came out unscathed from the scandal. The whole affair didn't bog him down.
As Vijender often says, the word pressure doesn't exist in his dictionary. He is someone who has personal conversations with God. He writes down these conversations or even records videos on his phone and keeps playing them in his mind. "It helps me to keep calm, and once I am in the ring, all I see is beating the other boxer," he says.
It isn't easy to make it in the world of professional boxing. Despite his formidable reputation, Vijender will have to start from scratch. The next three months will be spent in rigorous training under renowned trainer Lee Beard who has worked with the likes of Ricky Hatton and Floyd Mayweather.
Vijender will apparently start with four-rounder bouts and then slowly increase the number of rounds. "I am excited about this opportunity and I am confident more professional boxers will come out of India," he says. He is expected to make his pro debut in September 2015.
At 29, it's certainly a bold move on Vijender's part — if he stays fit, he can hope to box for the next five years. But he has always been bold, brash and confident about his ability. He won't mind the extra scrutiny that turning pro might bring in: after all, professional boxing is far more glamorous and lucrative than amateur boxing could ever be.