New Formula One world champion Sebastian Vettel will drive his Red Bull on a lap of honour through central Berlin on Saturday in front of tens of thousands of German fans, his team said.
Vettel, due to compete in the exhibition Race of Champions in Duesseldorf later that day, will make a stop in the capital to drive his F1 car down the Strasse des 17 Juni boulevard that ends at the Brandenburg Gate in the heart of the city.
"We will rock Berlin," the 23-year-old German, who became the sport's youngest champion when he clinched the title in the final race of the season in Abu Dhabi this month, said in a statement on Wednesday.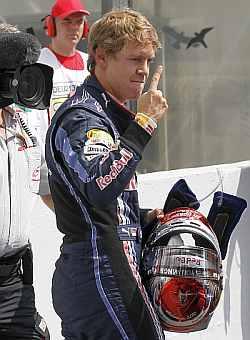 Red Bull said the driver wanted to thank his fans for the support throughout the season.
The wide, tree-lined boulevard that slices through the city, is often used for sports celebrations, playing host to millions of fans during the 2006 soccer World Cup in Germany and again during the national team's run to a third place finish at this summer's World Cup in South Africa.