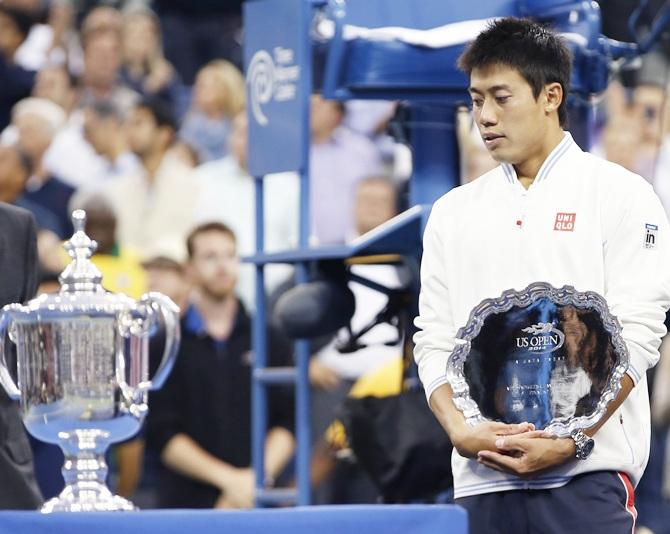 Kei Nishikori of Japan holds his runner up trophy as he looks at the winner's trophy after being defeated in the men's singles final match by Marin Cilic of Croatia at the US Open. Photograph: Mike Segar/Reuters
Japanese trailblazer Kei Nishikori had a thrilling run at the US Open, but could not summon a finishing kick as he hit the wall against big-hitting Marin Cilic in Monday's final at Flushing Meadows.
"I was a little bit tight and nervous, playing (my) first final," the 24-year-old said after his 6-3, 6-3, 6-3 drubbing.
"I was trying to concentrate, but it wasn't enough, I guess. Played too much tennis on the court these two weeks. Couldn't fight one more match."
'It was one of the worst matches I played today'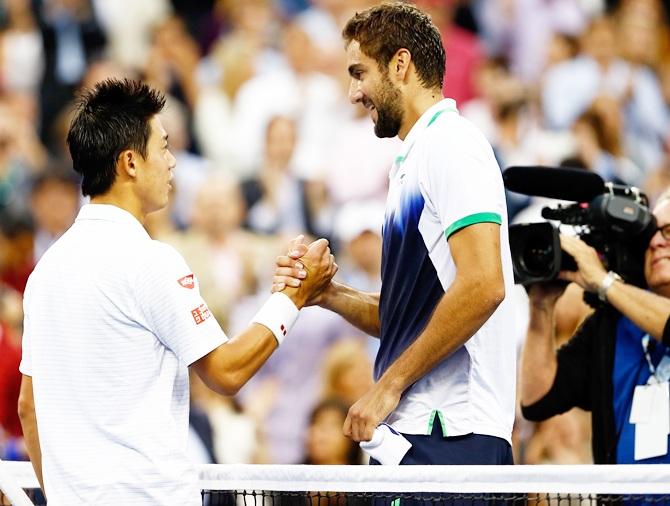 Marin Cilic, right, of Croatia greets Kei Nishikori of Japan. Photograph: Julian Finney/Getty Images
"It was one of the worst matches I played today."
The Grand Slam final, the first for both players, proved anti-climactic for Nishikori, who had won fans around the world as the first Asian man to reach a major singles title-decider.
The boyish 10th seed had played giant-killer in the leadup, showing a heart as big as Arthur Ashe Stadium as he beat fifth seed Milos Raonic in five sets in the fourth round and upset Australian Open champion Stan Wawrinka in another five-set tussle in the quarter-finals.
He saved his best for the semi-finals when he shocked world number one Novak Djokovic in four stifling-hot sets on centre court.
He had no answer to the booming serves and aggressive ground game of the 6-foot-6 (1.98 m) Croat Cilic, however.
"You know, I'm disappointed, but it was a good two weeks," he said. "I learned from these two weeks.
"I didn't expect nothing coming here. Before I was injured and (had) little practice," he said, referring to a cyst he had removed from his foot that threatened to rule him out."
'I can beat anybody now'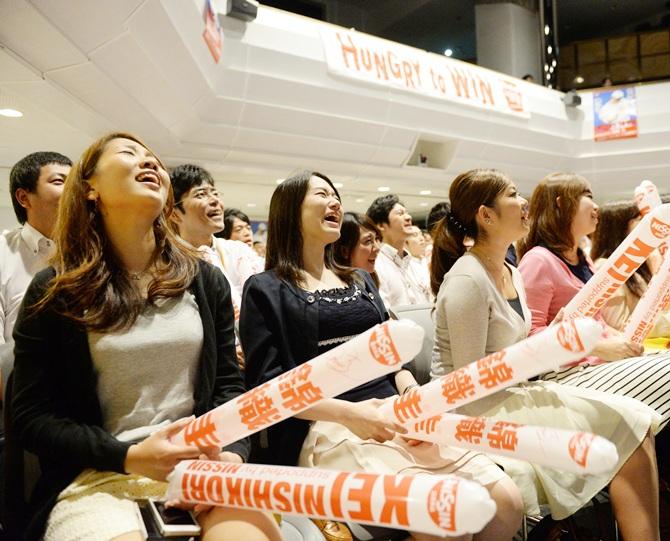 Employees of Nissin Foods Holdings Co show their disappointment after Kei Nishikori of Japan loses a point in the men's singles final match of the US Open at the headquarters building on September in Tokyo, Japan. The employees of Nissin Foods who has endorsement deals with Nishikori gathered at their company to view the match starting at 6 am local time. Photograph: Atsushi Tomura/Getty Images
"I think I showed my potential. I can beat anybody now. So if I can keep training hard and also practise hard, I think I have more chances coming up."
Nishikori was cheered on in the stands by compatriot Masahiro Tanaka, the New York Yankees pitcher, and encouraged by coach Michael Chang, the 1989 French Open winner, but he could not summon the energy and will to overcome.
"There were so many unforced errors that I usually don't have. It was windy. It was tough to play for both of us. But he served great and very aggressive, both forehand, backhand."
Despite the obvious disappointment, Nishikori will rise from 11th in the world rankings to eighth after his inspired tournament and could see a bright side.
"I even see a lot of news from Japan. Yeah, it's great to bring great news to Japan," he said.
"You know, tennis has not been the biggest sport in Japan. Women's, yes, but men never make it this far. Really happy to make a lot of history and, you know, great compliments.
"Hopefully I can win next time and have something more."
Nishikori took pride that he and Cilic, who knocked out Federer in the semi-finals, forged the first Grand Slam final without one of the 'Big Four' - Federer, Rafael Nadal, Djokovic or Andy Murray - in nine years.
"I think it brings good news for the tennis. A lot of young guys are coming up," said the Japanese, who has posted a 7-4 record against top 10 opponents this year.
"(Grigor) Dimitrov, Raonic did semis in Wimbledon. I think it's great for the tennis."
"For me, I didn't do well in Grand Slam these couple of years. Never make the semis or quarters. So that was the goal for this year, to make the semis. And I did it this year."