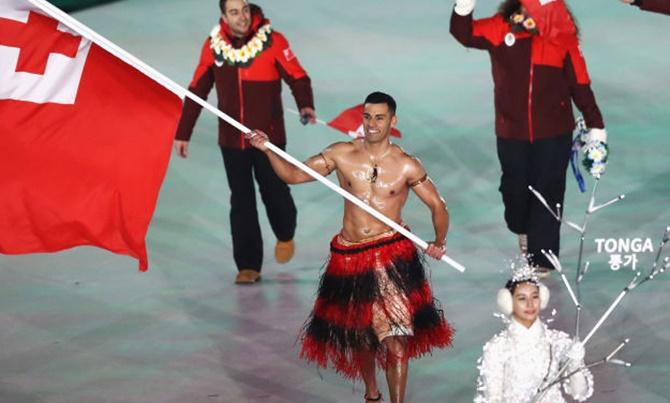 IMAGE: Flag bearer Pita Taufatofua of Tonga leads the team during the Opening Ceremony of the PyeongChang 2018 Winter Olympic Games. Photograph: Ronald Martinez/Getty Images
Tonga flag bearer Pita Taufatofua was shirtless again. He was all oiled up too.
The image of Taufatofua -- oiled up, shirtless and wearing a traditional Tongan skirt at the head of the country's tiny delegation at Rio's Maracana stadium -- went viral on social media, thrusting him into minor celebrity.
His appearance at the taekwondo tournament was over quickly, however, with a 16-1 thrashing in his first match.
Eighteen months on, Taufatofua presents a much leaner figure than the muscular martial artist that competed in the 80kg division.
But in the birth country of taekwondo, he was more than happy to break out a few spinning kicks for the benefit of a scrum of South Korean Olympic volunteers, who beamed as they snapped photos at the athletes' village.
Offers of paid modelling gigs and film roles were swept aside after Rio, however, as Taufatofua pondered his next great challenge.
The gruelling discipline of cross-country skiing proved an easy choice. It was the "hardest" thing he could think of doing.
With no snow in Tonga or near his Brisbane base in Australia, Taufatofua's training regime began with running on sand dunes with wooden planks strapped to his feet.
"We had to mimic being on snow while not being on snow," he said.
"We'd strap pieces of wood to our feet and run on the sand just to get the balance and some sort of glide."
Financing his second Olympic dream was also a constant battle and he started a crowd-funding campaign to pay for training in proper northern hemisphere snow.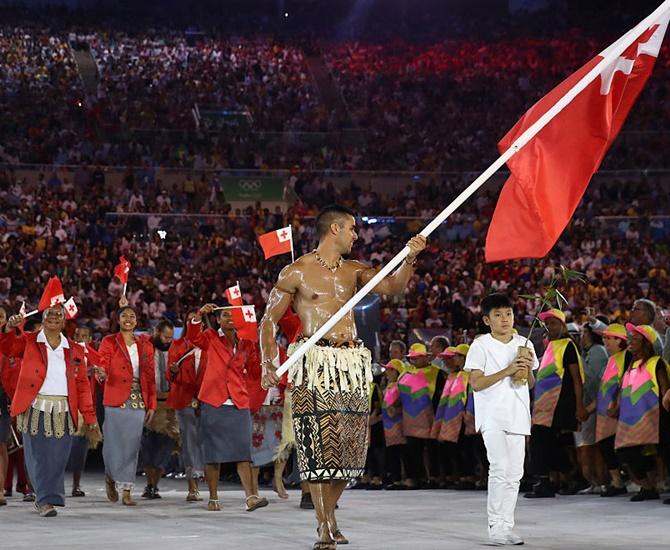 IMAGE: Pita Taufatofua of Tonga carries the flag during the Opening Ceremony. Photograph: Cameron Spencer/Getty Images.
He failed in his first six attempts to qualify but reached the mark in his final chance, only weeks ago in Iceland.
With only enough money to book one-way tickets to the Iceland qualifier, he ended up having to borrow money from his brother to get a plane home.
Taufatofua's cross-country skiing adventure may only be a quick diversion before he re-focuses on taekwondo, a sport that has given him six broken bones, three torn ligaments and hundreds of hours of rehabilitation.
A third successive Olympic appearance at the 2020 summer Games in Tokyo may be on the agenda.
"Taekwondo and skiing, now they're all in my blood," he said.
"Tokyo, I may go for the magic three. It's never been done (in Tonga) before."
'Trump' and 'Kim' thrown out of Opening Ceremony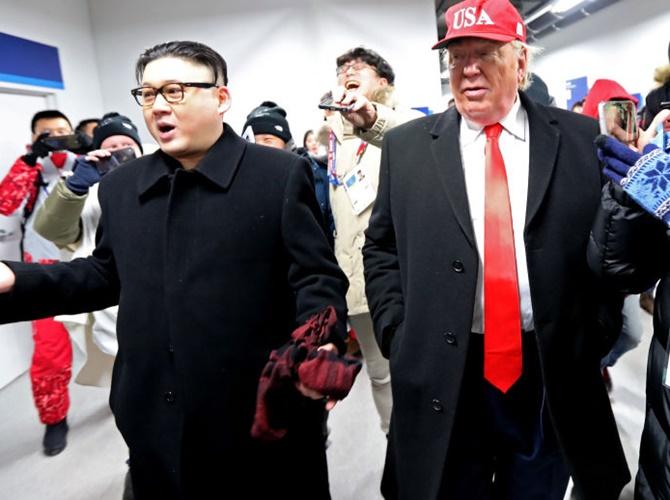 IMAGE: Impersonators of Donald Trump and Kim Jong Un are escorted out of the ceremony during the Opening Ceremony of the PyeongChang 2018 Winter Olympic Games. Photograph: Richard Heathcote/Getty Images
People dressed up as US President Donald Trump and North Korean leader Kim Jong Un caused a commotion when they appeared in the stands at the Olympic Games Opening Ceremony on Friday before swiftly being shown out by security staff.
"We're getting along great," said the Kim lookalike, who declined to give his name.
"We wanted to surprise everyone and bring world peace and then we're being escorted out by security guards, which I think is really unfair," he added. "Doesn't everyone want peace?"
The ceremony was marked by a show of unity between North and South Korea.
Athletes from both countries entered the arena under a flag depicting a unified Korea as American Vice President Mike Pence and Kim's sister, Kim Yo Jong, watched on from a VIP box.
"Is my sister getting the same treatment?," the Kim lookalike said as he was escorted out of the stadium.
Awkward! North Korean martial arts display met with silence
A martial arts display by North Korean athletes at the opening ceremony for the 2018 Winter Games was met with silence at the Pyeongchang Olympic Stadium, with the only supportive noises coming from North Korean cheerleaders high in the stands.
The display of the traditional martial art of taekwon do was part of a joint effort with South Korea as the stadium filled up, and the host nation's segment was accompanied by a pop version of a traditional Korean folk song.
The hosts performed a fast-paced routine choreographed to the music, delighting the crowd as they smashed planks of wood in time to the music.
But when the North Korean athletes took over, it became a more austere affair.
Their display also featured much breaking of wood and the smashing of some concrete blocks, but it was accompanied by guttural shouts from the martial artists as the majority of the crowd looked on in silence.
The only support for the North Korean section seemed to come from two groups of red-and-white clad female cheerleaders sitting in orderly rows and waving Korean unity flags, who whooped and cheered loudly during the entire display.
Barefoot in the freezing temperatures, some of the athletes needed several attempts to break their objects, but the arena floor was littered with broken timber by the time the South Koreans joined them for a joint finale.