It is their best finish for 54 years, since the glory days of the 1960s when the club was setting new standards in English football under Bill Nicholson.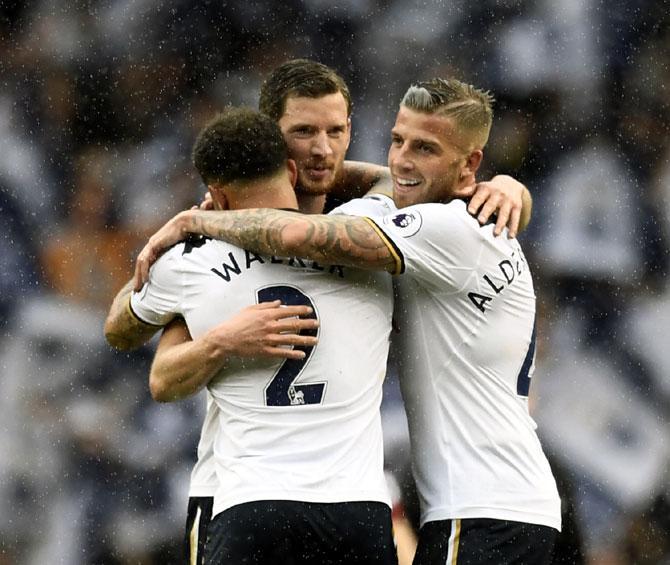 IMAGE: Tottenham's players celebrate after the match. Photograph: Dylan Martinez/Reuters
As farewell parties go, the one that ended an era at Tottenham Hotspur's White Hart Lane on Sunday was close to perfection.

After a sea of blue and white marked the final kickoff at the club's home for 118 years, Tottenham went on to beat England's most successful club Manchester United 2-1.

And as an emotional post-match ceremony drew to a close with a Gospel choir belting out "Glory Glory Tottenham Hotspur", a spectacular rainbow arched its way over the stadium as ticker-tape rained down on misty-eyed fans.

It would have all felt a bit hollow had Tottenham blotted a season of home excellence with a first defeat.

But Mauricio Pochettino's vibrant side played their part perfectly, marking the 2,533rd and last match at one of English football's most atmospheric grounds with a club record equalling 14th consecutive home victory that ensured they will finish runners-up behind Premier League champions Chelsea.

It is their best finish for 54 years, since the glory days of the 1960s when the club was setting new standards in English football under Bill Nicholson.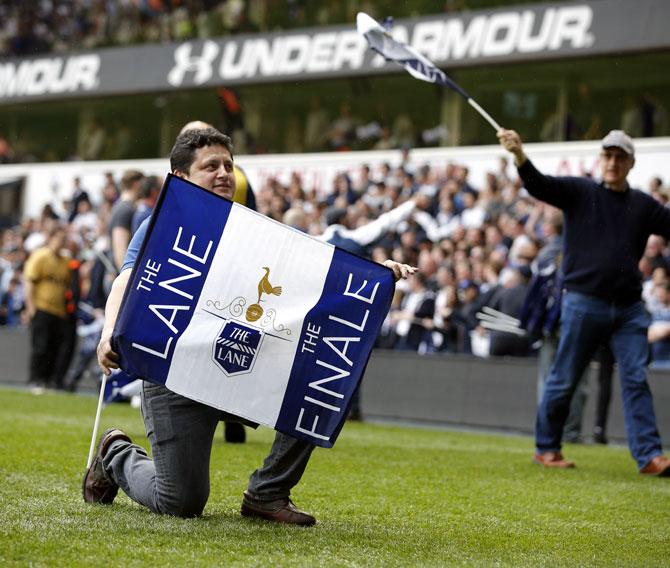 IMAGE: Tottenham fans celebrate on the pitch after the match. Photograph: Andrew Couldridge/Reuters
If that were not enough Harry Kane, the man the faithful serenade as "one of our own", marked the occasion with what turned out to be the winner.

His 22nd league goal of the season that put Tottenham 2-0 ahead just after halftime was the 5,272nd in all competitions scored at the ground. Few were celebrated more loudly.

Just for good measure, Liverpool's victory a few miles away at West Ham United meant Tottenham's bitter north London rivals Arsenal, so often their superiors in recent decades, now look odds on to miss out on a top-four finish for the first time in 21 seasons.

Kane's goal doubled Tottenham's lead after Victor Wanyama's early header and although Wayne Rooney struck late on for United, not even a side managed by occasional pantomime villain Jose Mourinho could hijack the day.

As the final whistle sounded at the Lane for the last time, thousands of joyous fans streamed onto the hallowed turf.

Eventually, once order was restored, a procession of 48 past players walked out in pouring rain to form a Tottenham 'dream team' under white umbrellas in front of the east stand that still sports the club's famous golden cockerel emblem.

A brass band played as four of the 1961 Double team -- Terry Dyson, Cliff Jones, Les Allen and Terry Medwin -- provided a poignant reminder of the club's last English title-winning side although Jimmy Greaves, the club's record scorer was missing.

Some of his goals were played on the giant screens during a film chronicling many memorable moments through the decades.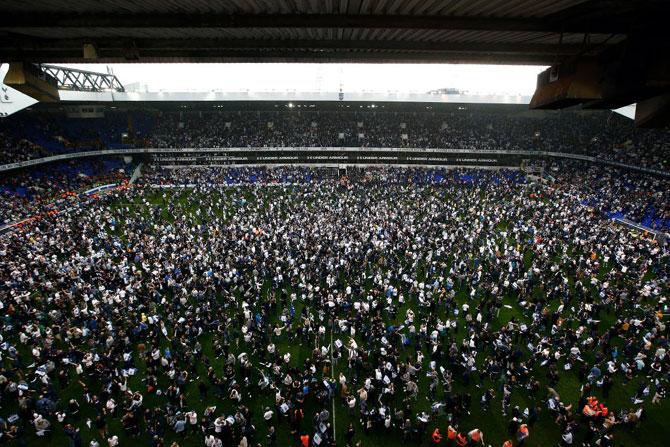 IMAGE: Tottenham Hotspur fans invade the pitch after the match. Photograph: Clive Rose/Getty Images
Goalkeeping great Pat Jennings and Steve Perryman, the club's former skipper who made a record 436 appearances at White Hart Lane from 1969-86, continued the roll call while some of the loudest cheers were reserved for 1980s maestros Osvaldo Ardiles and Glenn Hoddle.

More recent cult heroes David Ginola, Robbie Keane and Ledley King were also welcomed back, as were Teddy Sheringham and Dimitar Berbatov who also enjoyed spells with United.

Visiting fans teased "You've never seen Tottenham win the league" during a match dominated by the hosts.

But even they could not deny that these are exciting times for Tottenham.

The new 61,000-seater stadium, rising rapidly alongside the old one, is set to open for the 2018-19 season.

On the pitch a club record-equalling 14-match winning sequence at home propelled them into next season's Champions League while in Argentine Pochettino they boast one of Europe's most highly-regarded coaches.

With Kane, Dele Alli, Danny Rose and Christian Eriksen -- to name but a few -- all with the potential to improve, Tottenham can stride confidently into a new chapter in their history, even if a season at Wembley could prove problematic.

"It was a very emotional game and ceremony," Pochettino, who was clearly moved by the reception, told reporters.

"It is difficult to describe, but I am a very lucky guy to share such a special moment. "I am sad and disappointed Chelsea won the league, but we have nothing to regret.

"Next season we will try to win the league."