Former hockey captain Dilip Tirkey said India would miss the services of experienced forward Prabhjot Singh in next month's Commonwealth Games in New Delhi.
The three-time Olympian, who was part of India's best-ever Commonwealth Games finish at fourth position in Kuala Lumpur (1998), said the country can finish on the podium in the mega event that features six of the top 10 FIH-ranked teams including world champions Australia.
Surprised at the omission of Prabhjot, who was dropped after India's eighth place finish in the World Cup at home, Tirkey said, "I don't know why he does not figure in the team."
"He is experienced and a very good attacker. He should have been there in the side. It's really surprising," he said, echoing sentiments of chief hockey coach Jose Brasa.
The Spaniard had written to Hockey India secretary general Narinder Batra to recall Prabhjot to the camp in Pune, but only to fall on deaf ears.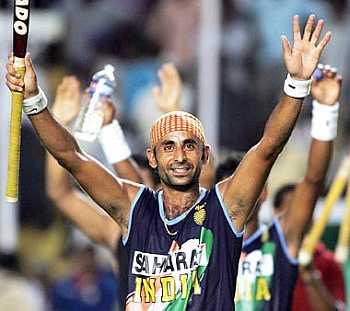 Tirkey, however, counted on the positives and said India have the best chance to open their medal account that has eluded them since hockey became a Commonwealth Games discipline in 1998.
"It's going to be a tough tournament, but we still have a good chance to make a podium finish. Our forward department is very good so let's concentrate more on attacking," he said.
"In Sandeep Singh, we have short corner specialist. I hope he will do well. We also have an attacking midfield in Vikram Pillay and Arjun Halappa. Gurbaj (Singh) and Prabhod (Tirkey) also like to play attacking," he said.
"But we cannot constantly keep on attacking as when a change takes place the rotation players are normally as good. Everyone is not of the same quality. Then, we have to build our defence that concerns me a bit. The entire team has to play as a defensive unit," the former India defender explained.
The 32-year-old, however, said the Indians have to guard against complacency.
"More importantly, we must not lose our momentum midway through. Very often, the complacency becomes a problem after winning a match. In the World Cup, we won a match and then slipped. We have to keep the pace," Tirkey said.
India have been grouped alongside holders Australia, Pakistan, Malaysia and Scotland while the Pool B features England, New Zealand, Canada, South Africa and Trinidad and Tobago.
"It will be tough against the Aussies who come as a whole package. They are the most balanced side and play fast. We really have to match them. But we can beat Pakistan, Malaysia and Scotland," Tirkey said.
The national team might have been mired in controversy after the recent spat between chief coach Brasa and Hockey India, but Tirkey said the side would be unaffected by such things.
"Always there is a controversy before a major tournament. The team is used to this and I hope they would overcome this time around also. It will be a challenge to Brasa as well. As always the fingers will point towards the coach if the team underperforms," he added.
India clinched fourth position in Kuala Lumpur where they lost to England on penalties in the bronze medal play-off.
In the 2002 edition in Manchester, India did not take part, while they finished sixth in Melbourne in 2006.
India begin their campaign against Malaysia on October 5.