Heavyweight boxing legend Muhammad Ali was honoured on Thursday for his humanitarian efforts and civil rights work at an awards ceremony in Philadelphia.
The $100,000 award called the Liberty Medal, sponsored by the nonprofit National Constitution Center, was presented to Ali by his daughter, Laila Ali, a former boxer herself.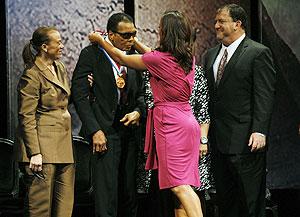 Ali, 70, who has been silenced by a long battle with Parkinson's disease, was honored as an icon of constitutional ideals and the American dream, the center said.
He "has been an outspoken fighter for religious and civil rights; a conscientious objector who took his battle to the Supreme Court and won; an ambassador for peace and justice worldwide, and a tireless humanitarian and philanthropist," the center said in a statement.
"Muhammad Ali continues to this day to inspire young people throughout the world," Philadelphia Mayor Michael Nutter told the ceremony.
Since he retired from boxing in 1981, Ali has worked on philanthropic and social causes around the world. He has made goodwill missions to Afghanistan and North Korea, delivered medical aid to Cuba, traveled to Iraq to secure release of 15 US hostages during the first Gulf War, and most recently, worked for the eventual release of the three American hikers held captive in Iran, the center said in its statement.
"We are here today to honor a true champion of freedom," David Eisner, the center's president and chief executive, told the audience.
Ali did not speak at the ceremony, held in the hometown of his bitter former rival Joe Frazier, who died of liver cancer last November. But his wife, Lonnie Ali, said he was "deeply honored ... to be a beacon of liberty."
Photograph: Jessica Kourkounis/Getty Images