'I will put in my hundred percent in the Olympics," promises Apurvi Chandela who took to shooting after watching Abhinav Bindra win gold in the Beijing Olympics.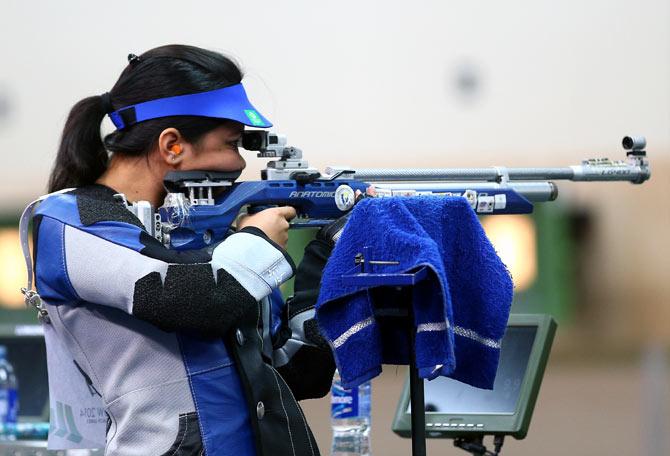 IMAGE: Apurvi Chandela in action in the 10m Air Rifle shooting event. Photographs: Paul Gilham/Getty Images
Not many had heard of Apurvi Chandela before 2014.
Now, after a string of stupendous performances at shooting ranges over the last two years, she is a favourite among the Indians to win a medal at the Rio Olympics.
The 23 year old gave notice of her potential by winning a gold medal in the Senior National Championships in 2012, her first year on the senior circuit.
Two years later, at the Commonwealth Games in Glasgow, she won the gold medal in the 10m Air Rifle event with a Games record score.
The Jaipur-born shooter, who took up shooting after watching Abhinav Bindra win the gold medal at the London Olympics, was the first Indian woman to qualify for the Rio Games after winning a bronze medal at the World Cup in Changwon, South Korea, last year.
Harish Kotian/Rediff.com caught up with the champion shooter.
Rio will be your first appearance in an Olympics. Are you nervous or excited?
It is a mixed feeling. I am nervous, excited... all together, actually!
Following your superb run in the last two years, people expect a medal from you in Rio. Does it put extra pressure on you?
Pressure is always there. Even earlier I did have pressure. I know people having expectations is normal, expectations will always be there.
I try to focus on my task and the journey, and not think about the results.
You came into the limelight after winning a gold medal at the Commonwealth Games in 2014. How has your journey been since then?
It all started in 2008, after watching Abhinav Bindra win the gold medal in the Beijing Olympic Games. That is how I started shooting.
Yes, after watching him.
Since then it has been an amazing journey. I went with the flow.
The Commonwealth Games was the biggest achievement of my career at that point. I am really happy that I have been able to maintain the consistency.
Was it difficult when you took up shooting? Who supported you?
When I started, my parents supported me.
They have always encouraged me and believed in my abilities.
I wanted to become a sports journalist before I took up shooting, but my parents told me 'it is your age to play, why don't you take up some sport?'
I went to a shooting range in Jaipur and tried both rifle and pistol shooting. Rifle suited me better, so I took up rifle shooting.
I was also lucky that my father got me a shooting range at home. It was proving to be difficult to manage my studies and shooting and I used to spend a lot of time travelling for both.
That is when he got me a shooting range at home.
When I go back home I am the same because of the same environment I get. I like the path I have taken.
I get to travel so much and see new places. I am loving every moment of my life.

You won gold at the Commonwealth Games and silver and bronze at the World Cup last year. What do you put your consistency down to?
Actually, I take one match at a time.
When I go into a match, I just think about that match because only that day matters for me and not what I have done in the past or what I will do in the future.
So I try to stay in the present as much as I can. That is what has worked for me till now.
Shooting is as much a mental sport as technical. How do you work on that?
I do a lot of meditation, yoga and cardio exercises to keep myself fit.
My physical and mental training are important for me to stay in the right shape and frame of mind always.
Can you emulate Abhinav Bindra's feat in Rio?
I can't assure, but I will try my best.
All I can say is that I will put in my hundred percent and hopefully do well.
Have you had a chat with Abhinav on how to deal with pressure and stress?
I haven't spoken to him, but I have read his book and taken a lot of points from there.
It is always good to learn from the experiences of a champion shooter like him.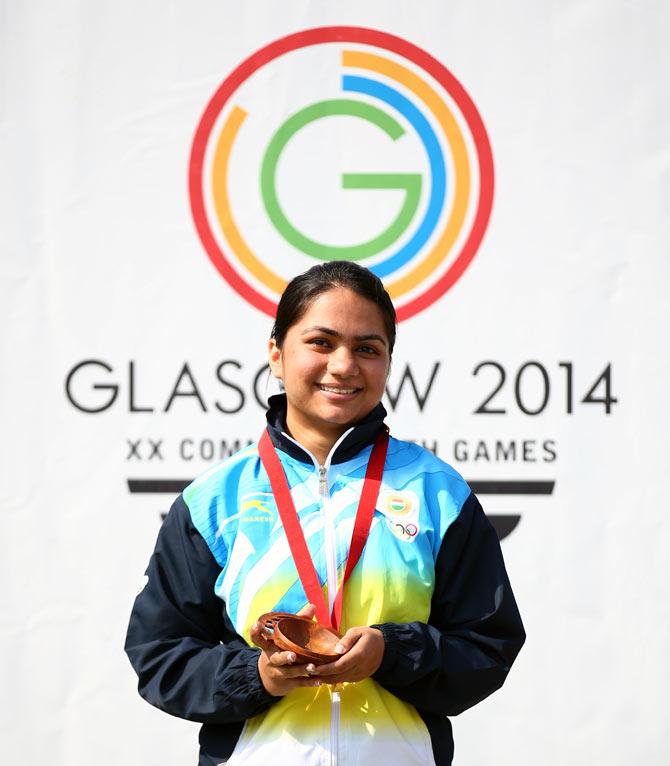 IMAGE: Apurvi Chandela celebrates winning the gold medal in the 10m Air Rifle Shooting at the Glasgow 2014 Commonwealth Games, July 26, 2014.
You won two gold medals in the Swedish Grand Prix in January, where you also broke the World record in the 10m Air Rifle with a score of 211.2 points (unofficial).
Such a good performance must give you a lot of confidence in an Olympic year.
That performance has given me more confidence because the competitors I will face in Rio, I have faced them before.
So a good performances in an Olympic year will definitely help going into the Games.
But at the Munich World Cup last week you finished a lowly 67th, behind Ayonika Paul and Pooja Ghatkar.
What went wrong?
What did you learn from your failures so close to the Olympics?
I take my failures in a positive manner. At that time I had played 8 to 9 matches in a row and I had good scores, but a dip is also important because it will give me the drive to push myself more.
A common problem associated with shooters is about their ammunition. How will you guard yourself against such an eventuality at the Olympics?
I have great support from Olympic Gold Quest. They take care of all my needs -- the rifle I am shooting with, I have a spare rifle as well.
I recently got a new shooting kit as well. In Munich I also did ammunition testing, so everything is in place at the moment.
How many hours do you train in a day?
I don't count the shots that I shoot. Usually I shoot for about 4 to 5 hours every day.
I will be leaving soon for Moscow and will be based there for a while after which I will take part in a World Cup in Azerbaijan.
I am looking forward to that tournament at the moment and not looking too far ahead.