'I would not be running had it not been for the army.'
'I learned to value my time only after I was posted in Kashmir.'
'I was posted there for three months. In those three months I learned everything about life.'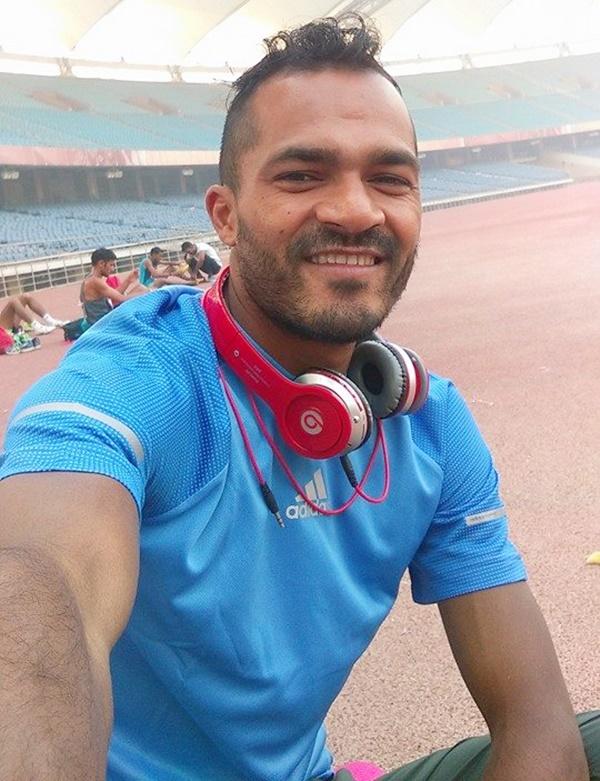 From a simple family in the hills of Bageshwar district in Uttrakhand to making it to the Olympics, Nitendra Singh Rawat has come a long way.
A Havaldar in the 6th Kumaon Regiment, he started running the marathon just a year-and-a-half ago. Now he is set for the biggest race of his life.
By qualifying for the Rio Olympics in only his first marathon, the 29 year old made heads turn.
He was the first of three Indians to qualify for the Games, having made the grade at the 2015 World Military Games in Mungyeong, Korea, last October. His eighth place finish came with a timing of 2 hours, 18 minutes, 6 seconds.
The mountain man will compete alongside Gopi T and Kheta Ram, making up India's first three-member men's marathon contingent at the Olympics in 56 years.
After securing qualification for Rio, he went on to notch victories in the Delhi half-marathon in November 2015 and the Mumbai marathon in January 2016 -- setting an Indian course record of 2h 15m 48s in the latter -- before picking up gold at the South Asian Games in Guwahati in February, where he clocked 2h 15m 18s.
He is now eyeing Shivnath Singh's 38-year-old National record for the marathon: 2h 12m, set in 1978.
Training under the watchful eyes of coach Surinder Singh Bhandari, Rawat is one of the most consistent of endurance runners to have emerged from the Services.
The marathoner tells Rediff.com's Laxmi Negi how he plans to tackle the challenges at the Olympics.
This year has been splendid for you. You started the year by breaking Ram Singh Yadav's record at the Mumbai marathon in January. Are you eyeing Shivnath Singh's record at the Olympics?
(Laughs) Before the SCMM (Standard Chartered Mumbai Marathon), I had told the press that I will break the record. Many thought I was over confident, but I did it.
At the Olympics, my target is 2 hours and 10 minutes. Obviously, I will surpass the 2.12 record!
Since my Olympics qualification I have felt an inner motivation; my desire to work harder has also increased. I feel I must do something good, since I am going to represent my country.
I have trained hard and that's why I am saying that if all goes well I will achieve my target.
Do you fear that your confidence will be seen as over confidence?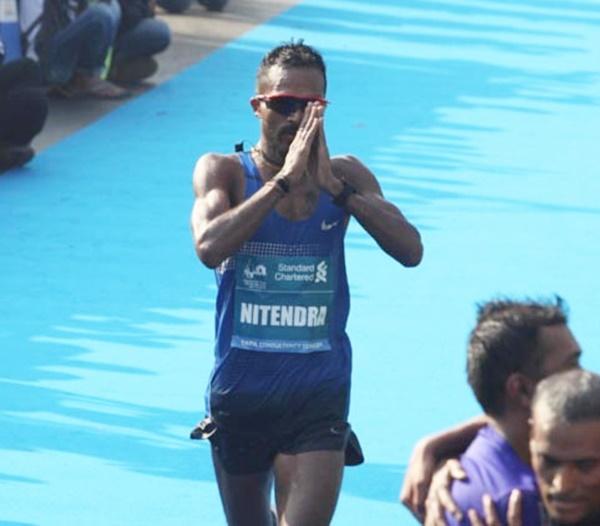 I don't fear anything. I say whatever I believe in and I am not very diplomatic.
I was in pretty good shape during the SCMM and, therefore, said would break the record there.
During the TCS (Tata Consultancy Services) 10K run in Bengaluru, I told the gathered press that I will end up on the podium, but was not sure whether I would be the winner.
That was because I know I am not that fast enough for 10K races, but I do have the endurance. And, rightfully so, I didn't win the 10K race but ended up on the podium.
I have confidence in my training and it's that confidence I carry in the races.
How is your training going?
After doing hill training in Ooty, now we (the three Indian runners for the Rio Games) are based in Bengaluru. I am doing an average of about 250 to 270 km per week. The training will only taper during the last ten days for my race.
Did you practice running before you joined the army? What were you doing in the villages then?
I hail from the hills of Uttrakhand. Before joining the army I did not even run more than a kilometre. My village was on a hilltop and to go to my school I used the climb down the hill, and while going home it used to be an uphill walk/run. That was my only training.
We were seasonal farmers and when I was not seen in the fields I used to be herding cattle. We owned bullocks, and my friends and I would take our cows and buffaloes for rearing together. Those days were so much fun.
Tell us about your experience in the army.
I am indebted to the armed forces. I would not be running had it not been for the army. I learned to value my time only after I was posted in Kashmir.
It was in 2008 and I was posted there for three months. In those three months I learned everything about life.
Those were three difficult and cold months. I was afraid because the firing used to take place just a short distance away.
It taught me to be thankful for every day and cherish every moment of my life.
If I did well at sports, I'd be posted at a place where I could train and compete. If not, I'd be at the border.
Running was the only way for me to get away from there.
You don't look like a soldier.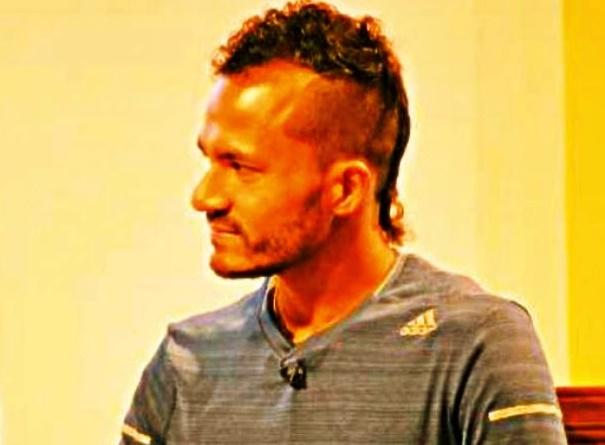 I (laughs again) was sporting a tiny ponytail during the SCMM. I could manage that as I was away in the National camp.
We met Prime Minister Narendra Modi this month and therefore had to get rid of my style statement.
The sunglasses and headphones are necessary for a long distance runner. It not only looks good on me, but also serves the purpose of aiding my training.
What music do you listen to while training?
I listen to the National Anthem when I'm training. Nothing is more motivating than that.
I also listen to fast, peppy Punjabi numbers. Sometimes I listen to Garhwali and Kumaoni songs; they are slow but melodious.
Are you looking forward to meeting any sports stars at the Olympics?
IMAGE: Nitendra Singh Rawat with Primer Minister Narendra Modi. Photograph: Twitter
Haile Gebrselassie and Paula Radcliffe are my favourite athletes. I have already met them here in India and read their biographies. So I don't have a list as such.
For now, competing at the Olympics and performing my best is all I am thinking about.