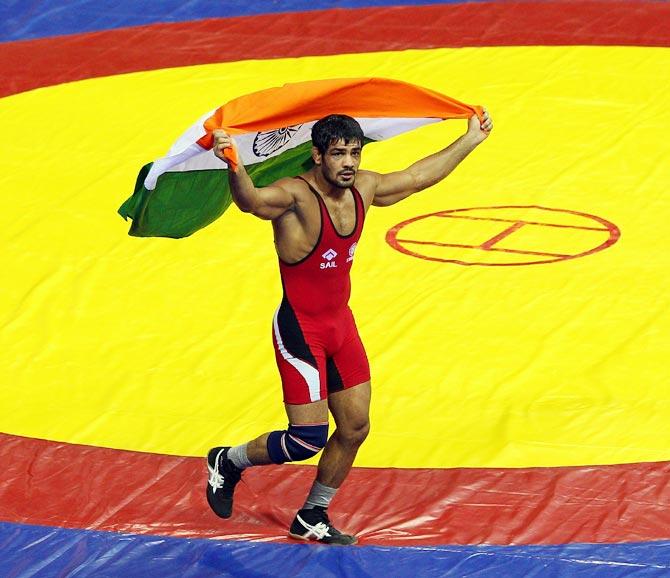 IMAGE: India wrestler Sushil Kumar. Photograph: PTI
The Delhi high court, on Monday, dismissed the petition of two-time Olympic medallist wrestler Sushil Kumar seeking direction to the Wrestling Federation of India to hold a selection trial to decide who will represent India in the 74kg freestyle category at the Rio Olympics.
Justice Manmohan said though Sushil is a "legendary" wrestler, the WFI's contention that Narsingh Pancham Yadav is better in the 74kg category cannot be termed as "unreasonable" or "perverse".
- 'I should go for the Olympics, not Sushil'
The court also observed that Sushil had himself participated in previous Olympics without going through selection trials before the sporting event.
Meanwhile, the high court issued notice to WFI vice-president Raj Singh asking him why perjury proceedings should not be initiated against him for giving a false affidavit before it.
The high court had earlier, on May 17, refused to intervene in the matter and asked the Wrestling Federation of India to meet Sushil and sort out the issue.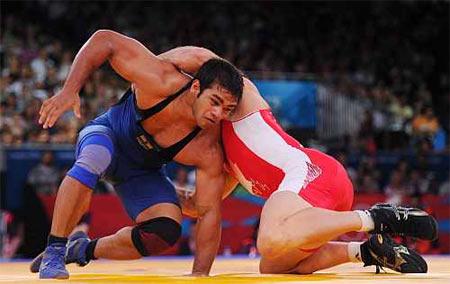 Sushil had also appealed to the Sports Ministry, Indian Olympic Association and WFI to give him a chance for the Rio Games, as the quota berth, according to the rules, belongs to the country and not a particular wrestler.
The court also said since the Olympics is scheduled in August, there is a high probability that the wrestlers may sustain injuries if the selection trial is conducted now.
The court's order came on the plea moved by 32-year-old Sushil, who had sought a selection trial to decide who will represent the country in the 74kg category at the Rio Olympics.
The WFI had opposed his plea, saying the 26-year-old Narsingh was a better bet compared to Sushil, who had participated in the 66kg category earlier.
The WFI had said that Yadav had secured a berth for the category at Rio by winning a bronze medal in World Wrestling Championship, held last year.
Yadav's counsel had also opposed Sushil's plea and told the court that the athlete who secures a berth represents the country in the Olympics.
Image: Narsingh Yadav at the 2015 World Championships in Las Vegas where he won a bronze medal in the 74 kg weight category
Photograph: Michael Regan/Getty Images