Go win for me and the country: Sushil Kumar
Sushil Kumar's coach Satpal Singh tells Aruneel Sadadekar/Rediff.com he's confident Narsingh will return with a medal from the Rio Games.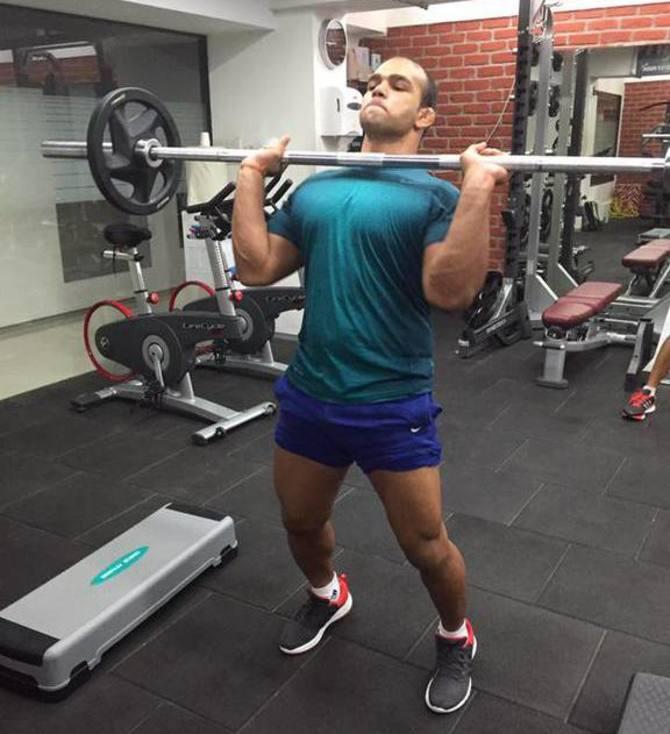 IMAGE: Wrestler Narsingh Yadav. Photograph: Facebook.
Ace wrestler Sushil Kumar's coach Satpal Singh made a complete u-turn on his stance against Narsingh Yadav after the latter was cleared of dope charges by the National Anti-Doping Agency on Monday.
The senior coach, who had launched a stinging attack on Narsingh after he tested positive for a banned substance, said he is extremely happy for the wrestler and expecting a gold medal from him.
"I got the news about Narsingh and I am extremely happy for him. It is what the country needed just ahead of Rio Olympics.
"We can expect one more medal now. I am confident Narsingh will get a medal for us. My wishes are with him," Satpal said.
In an exclusive interview with Rediff.com earlier, Narsingh had blamed Satpal and Sushil, alleging that they attempted to sabotage his career.
In a sensational turn of events, Narsingh was given a given a clean chit by the NADA, which said he was a 'victim of sabotage by a competitor'.
Satpal dismissed the charges leveled by Narsingh, saying a police inquiry will reveal the truth to the world.
"I don't know why he has blamed us. But an inquiry is now being conducted. We are not wrong and I have full faith in our system. Right now we should just celebrate as he will go to Rio," Satpal said.
Meanwhile, Sushil also tweeted his support to Narsingh.
"I am very happy for Narsingh. My support was with him yesterday, today and in the future also I will continue to support Narsingh. Go win for me and the country," read Sushil's post in Hindi.