A summary of sports events and sports persons, who made news on Monday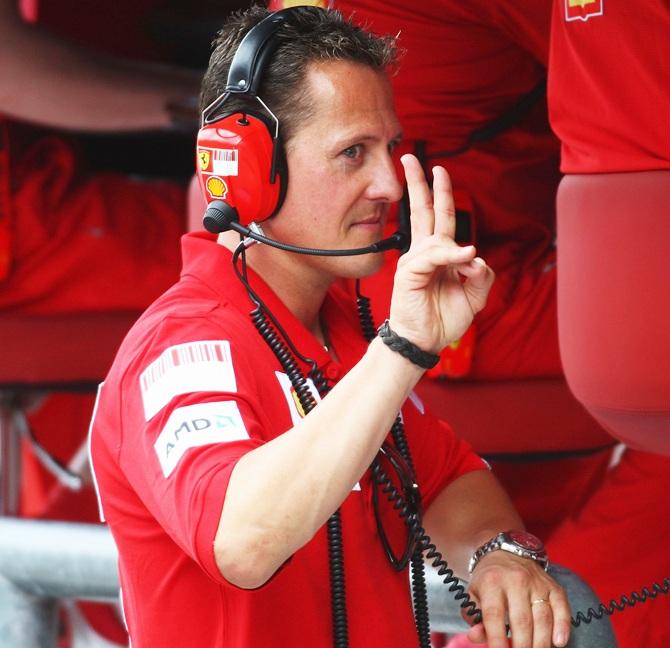 IMAGE: Former Ferrari Formula One World Champion Michael Schumache. Photograph: Clive Mason/Getty Images
Willi Weber, former manager of Michael Schumacher, believes the family of the Formula One legend should reveal the truth about his condition and should be completely honest with his fans.
Schumacher, who holds the record of seven Formula One titles and 91 race wins between 1991 and 2006, suffered from head injuries while skiing during a French Alps vacation in 2013.
And, almost four years later, not much is known about Schumacher's current condition following the accident, but it was emerged in court earlier in May 2017 that he still could not walk.
There are unconfirmed rumours mongering that Schumacher will be moved from Switzerland to the US, that his health condition is improving, and that he has relapsed into coma.
However, Weber blames the confusion on Schumacher's family and current management.
"I find it very unfortunate that Michael's fans do not know about his health. Why are they not being told the truth?" Weber was quoted as saying by Sport24.
"Formula One is just like my back now -- painful. It is now a Mickey Mouse show and nothing else. The sport has gone into the background," he added.
Triple gold for paddler Selena at Egypt Junior tourney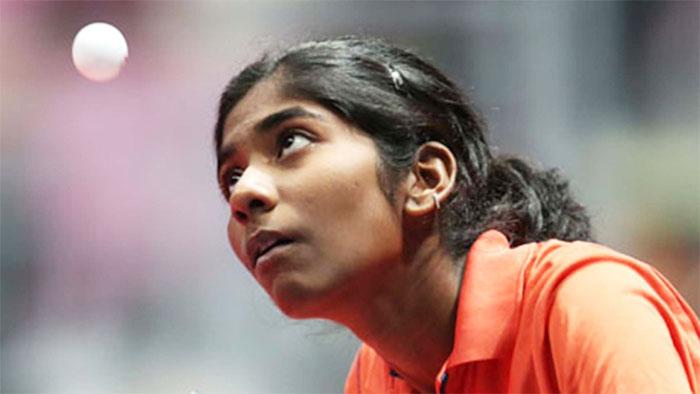 IMAGE: Selena Selvakumar. Photograph: Sports India/Twitter
Young paddler Selena Selvakumar won a triple gold medal at the Egypt Junior and Cadet Open Table Tennis Championship in Sharm El Sheikh, Egypt.
The 17-year-old Chennai girl won singles and doubles gold medal apart from the team championship gold.
Top seeded Selena had to fight her way to the singles' gold though, with her last two matches against the Alhodaby sisters going all the way.
She first overcame eighth-seeded Mariam Alhodaby 4-3 (11-9, 11-8, 10-12, 8-11, 11-8, 5-11, 11-5) in the semi-final.
In the final, she beat second seeded Marwa Alhodaby 4-3 (11-5, 12-10, 8-11, 6-11, 11-3, 6-11, 11-4).
Selena paired up with Nigeria's Esther Oribamise in the doubles and beat Egypt-Greek duo of Farida Badawy and Malamatenia Papadimitriou 3-2 (11-8, 12-10, 9-11, 8-11, 11-9) in the final to clinch the gold.
In the semi-finals, the duo beat Egypt's Sarah Abousetta and Tunisia's Abir Haj Sarah 11–7, 4-11, 13-11, 9-11, 12-10.
OGQ ropes in seven foreign coaches
The Olympic Gold Quest (OGQ), an outfit founded by sports icons Prakash Padukone and Geet Sethi, to train 80 junior and senior sportspersons within the country and overseas, has roped in seven foreign coaches in four disciplines.
More than 40 of these trainees are being supported by OGQ, the release said.
The foreign coaches appointed by OGQ are: Charles Atkinson of England for boxing, Kim Hagyong of Korea for archery, Vladimer Mestvirishvili of Georgia for wrestling as well as Kim Seonil (Korea), Munkhbayar Dorjsuren (born in Mongolia but a German citizen) Lazslo Scuzak (Hungary) and Anton Belak (SlovakRepublic) for shooting.
OGQ, a not-for-profit foundation, has been established to help Indian athletes win Olympic Gold medals. OGQ raises donation from fans, individuals and organisations to support training of senior and junior Indian athletes who have a potential of winning an Olympic medal.